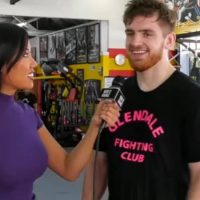 Undefeated UFC middleweight, Edmen Shahbazyan (10-0 MMA) just defeated Jack Marshman in the first round at UFC 239.
The 21-year old hopes to break the record for the youngest UFC champion which Jon Jones currently holds.
At Glendale Fighting Club, Shahbazyan spoke to Helen Yee about who he wants to fight next, working with Coach Edmond Tarverdyan, Ronda Rousey's best advice to him, how Yoel Romero would be his dream fight, and more.
Video below.
UFC bantamweight Aspen Ladd will be fighting Yana Kunitskaya on Saturday, December 7 at Capital One Arena in Washington D.C. During fight week, she spoke to Helen Yee about her upcoming fight, her previous weight cut, and...

Read More
UFC bantamweight Aspen Ladd will be fighting Yana Kunitskaya on Saturday, December 7 at Capital One Arena in Washington D.C. During fight week, she spoke to Helen Yee about her upcoming fight, her previous weight cut, and...

Read More
UFC heavyweight Ben Rothwell will be fighting Stefan Struve on Saturday, December 7 at Capital One Arena in Washington D.C. During fight week, Rothwell spoke to Helen Yee about his upcoming fight, reuniting with Coach Duke Roufus,...

Read More