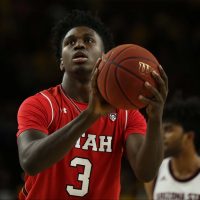 Donnie Tillman is the ideal complimentary piece for Amauri Hardy and UNLV. The Utah transfer comes to UNLV with a skillset that will be an excellent fit as a secondary scoring option.
Last year at Utah Tillman averaged 10.6 points per game while drilling 36.1 percent of his threes. At 6-foot-7, he offers the ability to stretch the floor from the front court, a trait that will help T.J. Otzelberger maximize his offensive efficiency.
But where Tillman will shine as a Runnin' Rebel is in spot-up situations. Amauri Hardy will be the primary ball handler for the Rebels. His ability to penetrate off the dribble will cause defenders to leave their man to help in the paint.
That is where Tillman steps in.
Last season Tillman scored 1.19 points per possession in spot up situations, the third-best mark in the Pac-12. When catching on the perimeter in a spot up scenario, Tillman has a full arsenal to attack defenses.
His best skill in spot up scenarios is to drive to the rim. Tillman (#3) does a great job of reading defenders and exploiting any late or out of position closeouts.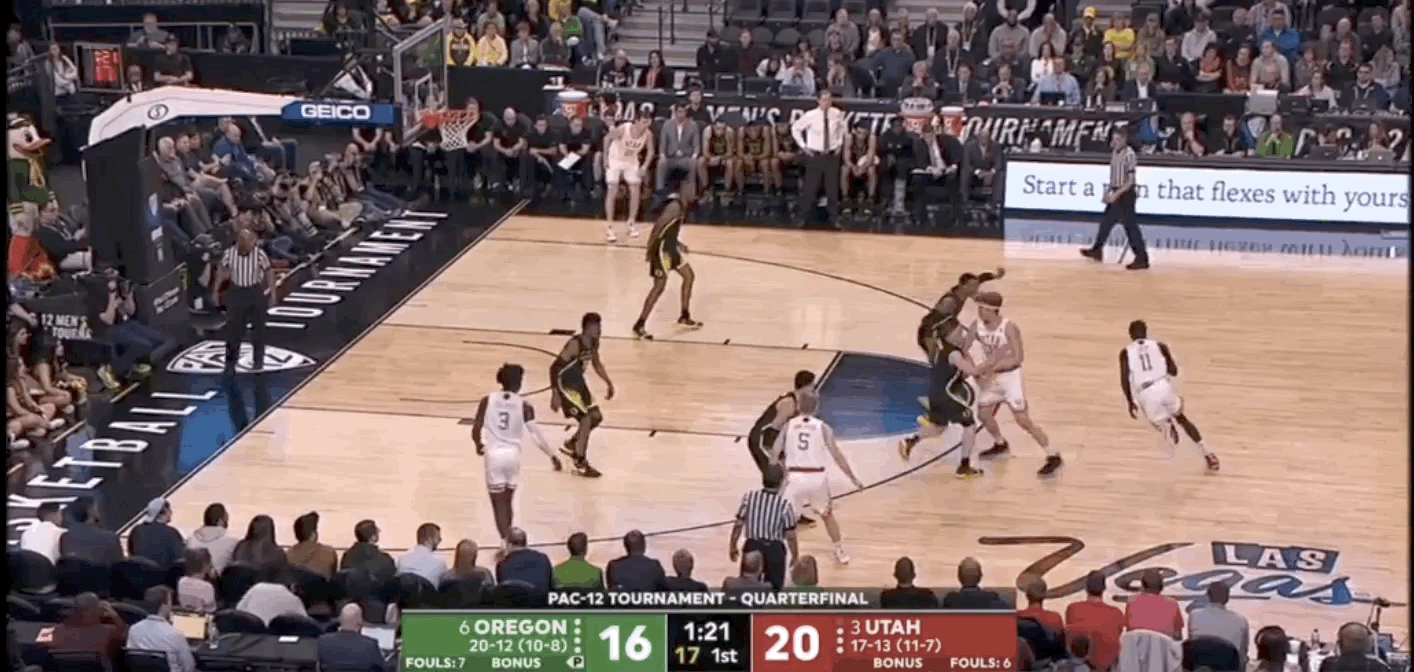 Oregon's defender doesn't stray too far from Tillman, but he is pushed up the sideline too far. That gives Tillman space along the baseline to attack.
Beating his man is just the first step to scoring, Tillman still has to navigate the help-side defense. As he rises to the rim, Tillman comes from under the backboard and uses the rim to prevent the rotating defender from having a chance to block his shot.
Finishing at the rim, isn't the only thing Tillman's driving ability brings to an offense. Because he turns spot-up opportunities into paint touches, Tillman finds himself at the line frequently.
He ranked 12th in the Pac-12 in free throw rate (ratio of free throw attempts to field goal attempts). And 10.8 percent of Tillman's spot up opportunities resulted in a shooting foul, third best in the conference.
Tillman was among the Pac-12's best in getting to the free throw line, where he has shot 78.3 percent in his career.
Even the best attacking player needs a three point shot to keep defenses honest. Tillman's three-point accuracy forced defenses to close out on his jumper. He scored 1.17 points per possession on no-dribble jumpers, 14th best in the Pac-12.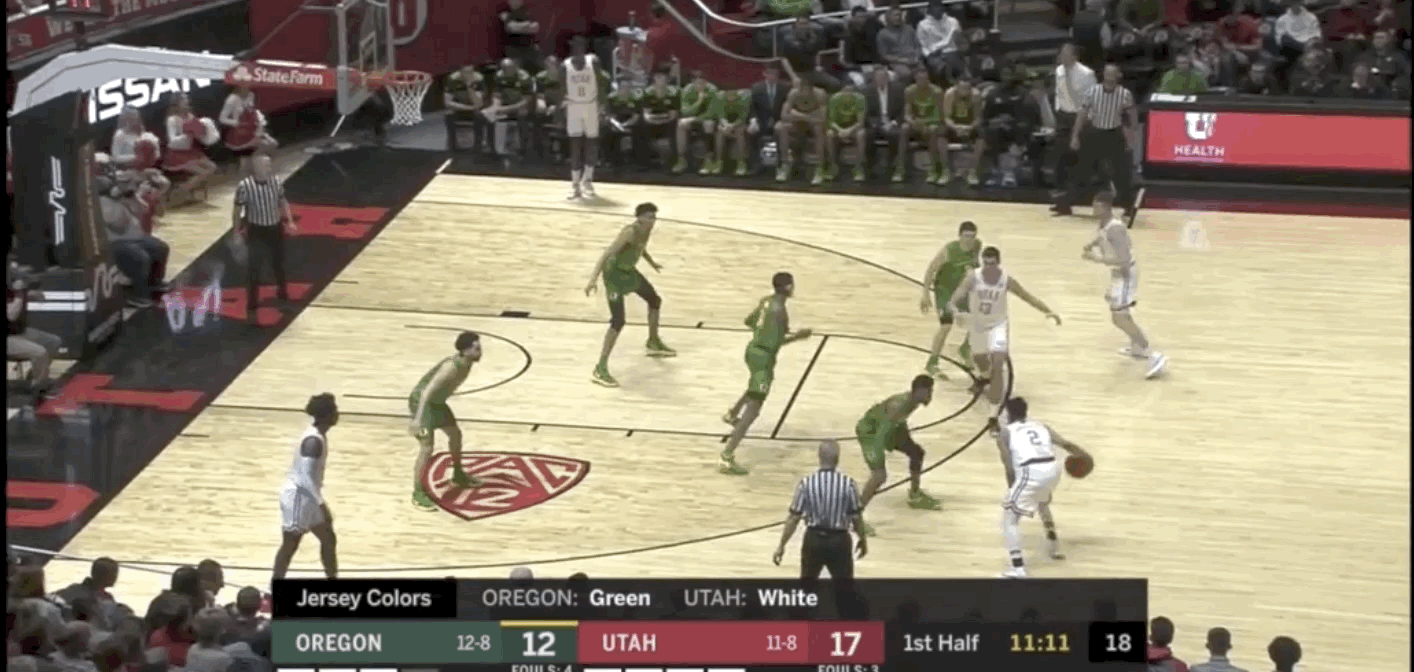 Here Utah runs a ball screen with Tillman as a floor spacer on the near side. When Tillman's man leaves to help on the roll man, it leaves an open three. With Amauri Hardy creating open looks off ball screens, defenses will have to decide on leaving Tillman or giving Hardy an open lane.
Beyond spot up opportunities, Tillman graded out as the 15th most efficient player in the Pac-12 on all possessions. One of the key benefits was his shot selection. Just 18 of his 230 field goal attempts were mid-range jumpers, per Hoop Math.
Tillman lived in the three most efficient areas of the game: free throws, threes and layups. He simply did not settle for the inefficient long two.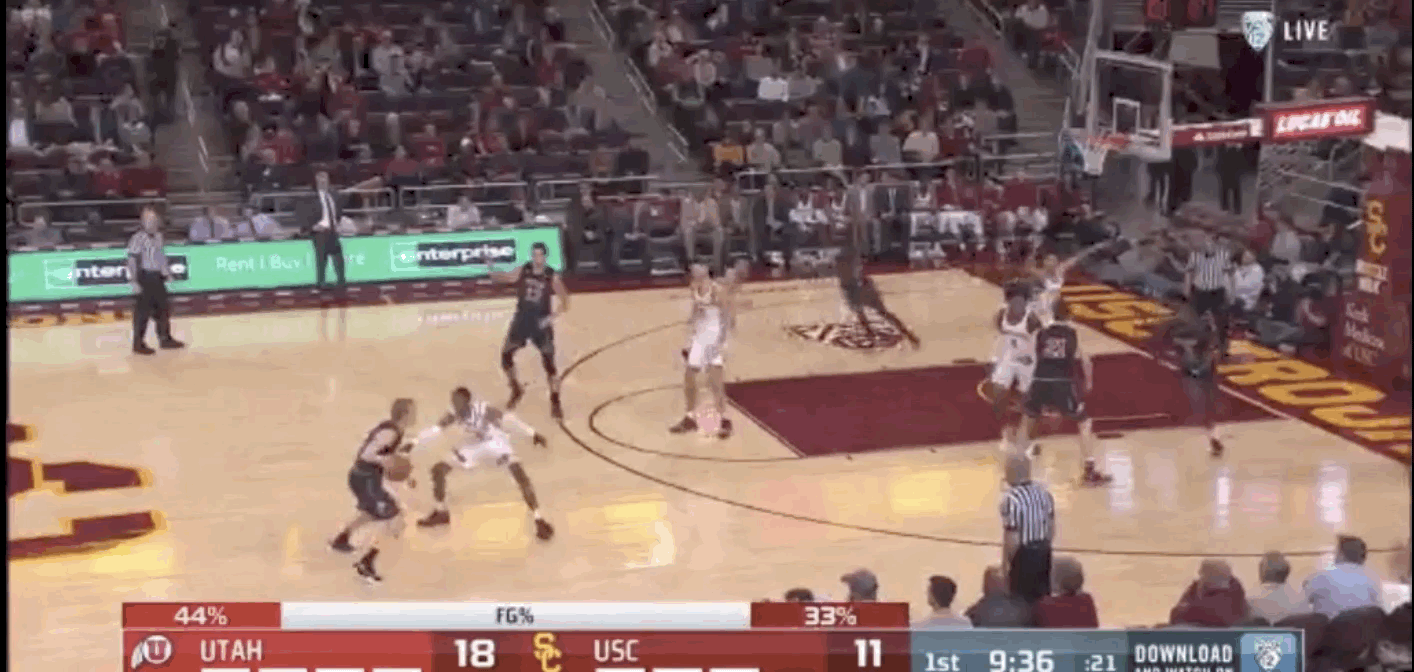 Utah runs a play for Tillman, and after he comes off the baseline screen, he has a chance to pull up for a mid-range jumper. Rather than take an inefficient shot with 19 seconds on the shot clock, he passes out.
Ultimately, Tillman would hit a three with the shot clock under five, which illustrates the need to avoid long twos. Offenses can almost always get a better shot. If the shot clock or game clock is counting down, firing up a mid-range jumper may be the best option. But with more than 10 seconds to work with, Tillman understands his team can do better.
As a stretch four, Tillman will be a perfect match for Hardy and the Rebel offense. But UNLV still has holes that Tillman won't fill.
In the half court, UNLV lacks a good roll man for Hardy pick and rolls. Tillman's skillset in spot situations could translate into being an effective roll man. But in his two years at Utah Tillman had just 15 possessions as a roll man. It is unproven ground that Otzelberger may be able to exploit.
Another area of concern for UNLV will be the transition offense. Otzelberger had South Dakota State ranked in the top 50 in offensive tempo last season and 38th in transition efficiency.
Last season UNLV pushed the pace as well, ranking 81st in offensive tempo and in the top half of the country in transition efficiency. But the most used and most efficient transition player, Kris Clyburn, graduated. He accounted for 33 percent of the Rebels transition points a season ago.
A Utah, Tillman played extremely slow, as the Utes ranked 258th in offensive tempo last season. Not only did Utah lack a consistent transition game, Tillman was among the worst in the conference, as he ranked 55th out of 58th in transition efficiency.
While his transition inefficiency may hinder his usefulness, Tillman will still be one of the most important pieces to the Rebels in Otzelberger's debut season.
Tillman should fall in as the number two scorer behind Hardy and a legitimate secondary option to create offense.
JT THE BRICK TALKS TO VEGAS GOLDEN KNIGHTS GM, KELLY McCRIMMON ABOUT THE FIRING OF GERARD GALLANT, THE UPCOMING TRADE DEADLINE, AND MORE…...

Read More

JT THE BRICK WITH KELLY McCRIMMON 01/29/20

JT The Brick
Las Vegas Raiders President Marc Badain joined The Press Box Morning Show, with Clay Baker and Ryan McKinnell, and expounded on the busy week as they officially announced the new team logo and team name, Las Vegas...

Read More
All Golden Knights fans will be able to place a $50 per seat season ticket deposit beginning now by visiting http://vgk.io/ahl-vegas. Season ticket deposits are refundable. Current Vegas Golden Knights ticket members who place a deposit will...

Read More