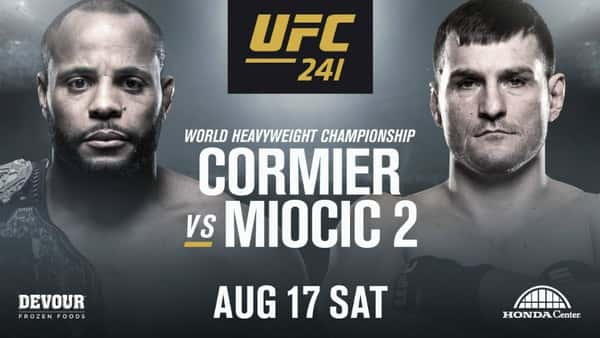 UFC 241 took place on Saturday, August 17 at a sold-out Honda Center in Anaheim, California. The entire card delivered and also earned a new California record gate for MMA – $3,237,032.00.
While there were so many memorable moments throughout the night, here are my Top 3 Moments (counting down 3-1):
3. Paulo Costa vs Yoel Romero
This nonstop action packed "Fight of the Night" winner, and now a candidate for fight of the year, exceeded expectations which were already high. It earned a standing ovation and though some had conflicting decisions on who they thought the winner was in the razor thin fight, Paulo Costa powered his way to a unanimous decision victory and an undefeated 13-0 record.
Yoel seriously tried (and may have succeeded) to distract a rampaging Costa hunting a KO off a KD with a "look over there" point. Romero is a treasure. #UFC241 pic.twitter.com/pNQDc6gcpy

— Sriram Muralidaran (@SriramMSays) August 18, 2019
2. The successful return of Nate Diaz, and calling out Jorge Masvidal
After being away from the octagon for nearly three years, Nate Diaz made his anticipated return in front of a sold-out arena chanting for him. He looked so sharp in the octagon against a tough Anthony Pettis which earned him a unanimous decision victory. Afterwards, he called out Jorge Masvidal.
Nate Diaz is back and he wants Jorge Masvidal next. #UFC241 pic.twitter.com/6vyLoyFsp3

— SportsCenter (@SportsCenter) August 18, 2019
1. Stipe Miocic wins his belt back
Since being defeated on July 7, 2018, by a future UFC Hall of Famer, Daniel Cormier, Stipe Miocic was hungry for a rematch to avenge that loss and reclaim his UFC heavyweight title. Though Miocic was out of the octagon for a year, it was life-changing for him; he became a father for the first time. When asked about his daughter Meelah during media day, his face lit up as he smiled ear to ear.
In the fight, Miocic was facing adversity early on in the first few rounds; however, he made the right adjustments in the fourth round by attacking Daniel Cormier's body, then head, which crumbled Cormier, and not only earned Miocic the TKO victory, but added to his legacy.
STIPE KOs CORMIER!! 😱😱😱 https://t.co/PJUq1FD6WF

— Complex Sports (@ComplexSports) August 18, 2019
I was "feeling dangerous" @bakermayfield https://t.co/QUlgREBPAJ

— Stipe Miocic (@stipemiocic) August 19, 2019
Those were my Top 3 Moments, what are yours? -Helen Yee
Here are some tweets from Jesse Granger with renderings of the proposed new home of the Henderson Silver Knights. Here are some renderings of the future Henderson Event Center, home of the AHL's Silver Knights. Courtesy of...

Read More
FOR IMMEDIATE RELEASE MAY 26, 2020 NHL ANNOUNCES RETURN TO PLAY PLAN FOR 2019-20 24 Teams Will Restart Play, Compete for Stanley Cup 2 "Hub" Cities Will Play Host to Games Protocol for Players' Return to...

Read More
Here are some links to resources that may help you stay informed and knowledgeable. https://nvhealthresponse.nv.gov/ https://www.cdc.gov/coronavirus/2019-ncov/index.html www.southernnevadahealthdistrict.org/coronavirus. https://sites.google.com/nv.ccsd.net/covid-19updates/home#h.au7wl6jpawt9 Also if you are able to help, threesquare is doing great work here locally in...

Read More