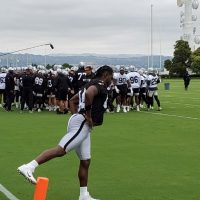 The ongoing saga of Antonio Brown's tumultuous first weeks during training camp hit a breaking point Sunday when Raiders General Manager Mike Mayock delivered an ultimatum for Brown to return to practice with the impassioned "It's time for him to be all in or all out" plea.
The next move by AB was to file a new grievance against the NFL for another ruling on wearing the same helmet he's worn for years, despite the league's ruling it was unsafe by the guidelines collectively bargained for by the players association.  So, would he show up for practice on Tuesday?
Yes.  Apparently.
Adam Hill of the Review-Journal, and Co-Host of Cofield & Company – captured the above picture in the open portion of practice that was available to the media, in which Brown is seen stretching in the corner of the end zone, 30 feet from the rest of the huddled offense.  That image alone seemed to represent the star receiver's beginning with the Raiders:  Distant.
Later, Head Coach Jon Gruden took questions from reporters and insisted that Antonio Brown practiced with a helmet and has no issue with returning to the team.  "It's a certified helmet, so he's all in and ready to go. That's my understanding.  I'm happy to have him out here. He's a great player."    Gruden also addressed Brown's current grievance against the league, "And this grievance thing is no laughing matter, it's something that's really important to him. And there's nothing wrong with supporting your players, on things that they believe in."
For now, we can assume that AB is no longer perched in a Napa mansion, far away from the Raiders other players and coaches and he'll be a constant at practice and the facilities during the preseason.  So why does it seem like if we believe that, we only have ourselves to blame when Antonio Brown surprises us again?
Las Vegas Raiders President Marc Badain joined The Press Box Morning Show, with Clay Baker and Ryan McKinnell, and expounded on the busy week as they officially announced the new team logo and team name, Las Vegas...

Read More
Raiders Alum and 4x Pro Bowler Marcel Reece delivered Thanksgiving baskets to less fortunate families at the Boys & Girls Club of Southern Nevada on Thursday, November 21. Reece also spoke to the kids about the importance...

Read More
The USO teamed up with the Raiders Foundation to give military members and their families a chance to run through combine drills. A 40-yard dash, cone drills, passing drills and more took place at Nellis Air Force...

Read More