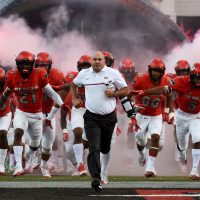 Tony Sanchez enters 2019 with a clear objective. Win six games and go to a bowl game, something he has not accomplished in four seasons leading UNLV.
Following last season, UNLV's athletic director Desiree Reed-Francois painted an ultimatum for Sanchez.
"After evaluating the UNLV football program with Acting President Marta Meana, Coach Tony Sanchez will return for a fifth year to lead the Rebels. We are looking forward to a successful 2019 football season including bowl eligibility, continued improvement in the classroom, and as always, a positive student-athlete experience. We have invested more resources than ever into the Rebel football program and will continue exploring every avenue to enable it to be competitive," Reed-Francois said in a statement.
If UNLV falls short of a bowl eligibility for the fifth time under Sanchez, the expected avenue for Reed-Francois will be a new head coach.
The 2019 schedule does not set up favorably for Sanchez. For the first time since 2015, UNLV will play two power conference opponents in Vanderbilt and Northwestern.
Southern Utah (Win, 1-0)
The last time UNLV opened the season with an FCS opponent while wearing throwback helmets, the Rebels lost to Howard 43-40.
This year, UNLV will wear throwback helmets from the 1970s to take on Southern Utah. But the Rebels should have no problem with the team picked to finish 12th in the 13-team Big Sky.
Arkansas State (Win, 2-0)
It will be an early season swing game, as Arkansas State represents the first of many toss up games. Last season Arkansas State beat UNLV 27-20 on a rainy day in Jonesboro, Arkansas. The Red Wolves will be breaking in a new starting quarterback this season, giving UNLV a better chance to snag a victory.
At Northwestern (Win, 3-0)
Every season under Tony Sanchez UNLV has upset someone they have no business beating. Last season a 2-7 UNLV team won at San Diego State. In 2017 UNLV handed Fresno State its only Mountain West loss, in Fresno. In 2016, UNLV downed eventual first-round pick Josh Allen and Wyoming at Sam Boyd Stadium in triple overtime. And in 2015, Sanchez went to Reno for the first time and stole the cannon from a team that would win four more games than UNLV.
Northwestern has yet to name a starting quarterback for the season, as they lost a 3,000 yard passer in Clayton Thorson. Even though Northwestern appeared in the Big ten title game last season, they still tripped up to a 4-8 Akron team in Evanston, Illinois.
At Wyoming (Loss, 3-1)
The only good part of going to Laramie is that UNLV does it in September instead of November. The Mountain West slate will be full of toss-up games for UNLV. Wyoming is projected to have one of the best run defenses in the Mountain West. When an Armani Rogers-led team struggles to run the ball, UNLV loses.
Wyoming's offense is not expected to be very good this season, so this could be an ugly, low scoring defeat for UNLV.
Boise State (Loss, 3-2)
Boise State lost seemingly everything on offense with their top passer, rusher and top two receivers departing. UNLV could possibly have a decent defensive day against an inexperienced Bronco team.
But Boise State projects to have the best run defense in the Mountain West. If the Rebels struggle on the ground against Wyoming, Boise State will be even tougher.
At Vanderbilt (Loss, 3-3)
Vanderbilt had one of the worst run defenses in the SEC last season, giving UNLV a chance to run the ball and control the game. But even the worst SEC defense should be able to handle a mid to lower tier Mountain West team. While the Commodores will also be breaking in a new quarterback, Riley Neal is a graduate transfer from Ball State who has 7,393 yards and 46 touchdowns in his career.
At Fresno State (Loss, 3-4)
The last time UNLV went to Fresno State, UNLV produced one of its best defensive performances of the Tony Sanchez era. The Rebels held Fresno State to 16 points and pulled off the upset. But last season was a 48-3 blowout win for Fresno State.
The good news: Fresno State is replacing their star quarterback, Marcus McMaryion and a majority of their defensive starters.
The bad news: Fresno State is still better than UNLV.
San Diego State (Loss, 3-5)
The end of a brutal stretch for UNLV is a home game with San Diego State. The Aztecs were last year's surprise win for the Rebels. But UNLV wins rarely come in back to back years against San Diego State.
This game will come down to San Diego State's defense. If they are a usual Rocky Long defense, UNLV will have no chance to move the ball. But if the Aztecs collapse like last year when they ended the season on a four game losing streak, UNLV could pull off another upset.
At Colorado State (Win, 4-5)
Colorado State is not good. It is hard to find something they are actually good at on a football field. They had the second most passing plays of 10 yards or more in the Mountain West in 2018!
This will be one of UNLV's easiest defensive opponents all season, and Armani Rogers and company should control the game on the ground.
Hawaii (Loss, 4-6)
This will be the most entertaining game on the schedule. Hawaii already proved to be one of the must-watch teams in the Mountain West with a seven-point win over Arizona in week zero.
The problem for UNLV will be stopping the passing game. Two different Hawaii quarterbacks (Cole McDonald or Chevan Cordeiro) can tear through UNLV's secondary.
San Jose State (Win, 5-6)
The worst team in the Mountain West. Somehow UNLV lost this game last season, handing the Spartans their only win of the conference season. That is not happening again.
At Nevada (Loss, 5-7)
The height of drama. A five win UNLV going into the final game of the season. Hopefully we will be blessed with a 5-6 Nevada team as well.
Nevada had one of the best Mountain West defenses last season, but they lost the majority of their standout players. Plus who knows what quarterback will be starting at the end of the year, as it has been an injury riddled fall trying to replace Ty Gangi.
A win and UNLV goes to a bowl game, keeps the cannon red and saves Tony Sanchez job. A loss and the bowl, cannon and head coach are all gone.
Here are some tweets from Jesse Granger with renderings of the proposed new home of the Henderson Silver Knights. Here are some renderings of the future Henderson Event Center, home of the AHL's Silver Knights. Courtesy of...

Read More
FOR IMMEDIATE RELEASE MAY 26, 2020 NHL ANNOUNCES RETURN TO PLAY PLAN FOR 2019-20 24 Teams Will Restart Play, Compete for Stanley Cup 2 "Hub" Cities Will Play Host to Games Protocol for Players' Return to...

Read More
We will go deep into the vault to bring you classic ESPN Las Vegas Videos.  Some of these videos are from over a decade ago. Frank on the NHL Awards red carpet from 8 years...

Read More