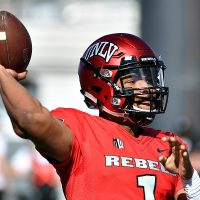 When Armani Rogers takes UNLV's first snap on Saturday, he will be the first Rebel quarterback to start three straight season openers since 2002. But the junior quarterback will need improve in the passing game to give UNLV its best chance to reach a bowl game.
Through two injury-riddled seasons, Rogers has completed just 49.3 percent of his passes. The accuracy has plagued the Rebel offense, especially on third downs, where Rogers has hit on 38.1 percent of his throws. He has been even worse in obvious passing situations, connecting on just 16 of 71 (22.5%) passes on third down and seven or longer. No other quarterback in the Mountain West was under 40 percent on third and longs.
Not all of those completions on third and long have resulted in first downs. Just 16.4 percent of Rogers' pass attempts on third and seven or longer have gone for first downs. Meanwhile 18.9 percent of Rogers' carries – which includes sacks – have gone for first downs when it is third and long.
UNLV is better off with Rogers running than throwing when they get behind the chains.
When defenses know a pass is coming, Rogers has not proven to be capable of efficiently moving the chains for the Rebels. The good news, is UNLV is a run-first offense that can make Rogers' life easier by setting up manageable third downs or avoiding them altogether.
Rogers will be responsible for the bulk of UNLV's rushing success. His legs are the top skillset on the Rebel offense and force defenses to account for the threat of him taking off at any time. In 16 career appearances, Rogers has run for 1,345 yards at 5.6 yards per carry and punched in 16 rushing touchdowns. He is a terrifying runner, and without him, the vaunted Rebel rushing attack disappears.
Last season, in six games with Armani Rogers, UNLV ran for 1,793 yards on 5.7 yards per carry. In the six games without Armani Rogers, UNLV ran for 899 yards on 3.9 yards per carry.
Rogers has decent numbers when throwing on first or second down. He has hit on 55.7 percent of his career passes prior to third down. In a run-heavy offense, throwing on first down often means throwing when defenses have an extra man committed to stopping the run in the box.
If UNLV is able to run the ball well, the offense will roll and Rogers won't be placed into passing downs. But with strong defenses in Boise State, Wyoming, San Diego State, Northwestern and Vanderbilt on the schedule, UNLV's run game is bound struggle throughout the year.
That is where Rogers has to improve.
We have seen glimpses of the quarterback showing out with his arm. Last season, he helped lead a comeback to win the Fremont Cannon, throwing for three touchdowns and completing 65 percent of his passes. As a freshman, Rogers led UNLV down the field with his arm for a last-minute, game-winning touchdown at New Mexico.
The Rebels need that in more than one game per season. They need Rogers to keep drives alive with his arm all season to pull off a few upsets and reach the six-win mark.
Here are some tweets from Jesse Granger with renderings of the proposed new home of the Henderson Silver Knights. Here are some renderings of the future Henderson Event Center, home of the AHL's Silver Knights. Courtesy of...

Read More
FOR IMMEDIATE RELEASE MAY 26, 2020 NHL ANNOUNCES RETURN TO PLAY PLAN FOR 2019-20 24 Teams Will Restart Play, Compete for Stanley Cup 2 "Hub" Cities Will Play Host to Games Protocol for Players' Return to...

Read More
We will go deep into the vault to bring you classic ESPN Las Vegas Videos.  Some of these videos are from over a decade ago. Frank on the NHL Awards red carpet from 8 years...

Read More