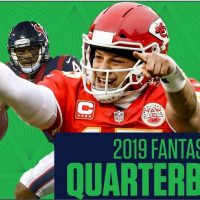 Each week on Wednesdays the fellas talk fantasy football
Nova Home Loans' Dustin DeHart stopped by to chat about all those drafts over the next few weeks.
Where do we draft Ezekiel Elliott and Melvin Gordon? What about their backups?
Should you patiently wait for a QB or fire early on Pat Mahomes?
Photo courtesy ESPN.com
Las Vegas Aces star A'ja Wilson joined Steve Cofield and Adam Hill to talk about how she has been staying busy during quarantine and what the WNBA and the Aces have planned for the upcoming season. Twitter...

Read More
Las Vegas Aces star A'ja Wilson joined Steve Cofield and Adam Hill to talk about how she has been staying busy during quarantine and what the WNBA and the Aces have planned for the upcoming season. Twitter...

Read More
Raiders LB Javin White joined Steve Cofield and Adam Hill to discuss what it was like going from playing for UNLV to getting picked up by the Raiders as an unrestricted free agent. Photo courtesy of unlvrebels.com...

Read More