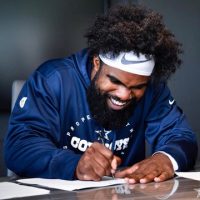 Everyone in the sports world has been watching Ezekiel Elliott closely since training camp.
The fourth year running back finally got his much coveted extension worth six years and $90 million!
Ari Temkin hosts the pre and post games for the Cowboys Radio Network.
He joined Cofield & Company to comment on the impact of Zeke's extension and what's next for QB Dak Prescott.
Dak's negotiations were likely thrown for a loop after seeing Jared Goff's $134 million extension.
You can listen to the full interview here: https://www.lvsportsnetwork.com/episode/09-04-cofield-co-hour-3/ (27:24 – 40:27 mark)
Ari Temkin can be heard on 105.3 The Fan and "Big 12 This Morning" on Sirius XM (Ch. 375)
ESPN's Paul Gutierrez joined Ed Graney and Mike Pritchard to discuss what the Raiders want to do with the 12th pick? Why we should expect the unexpected considering the amount of money the Raiders spent on the...

Read More
ESPN's Paul Gutierrez joined Ed Graney and Mike Pritchard to discuss what the Raiders want to do with the 12th pick? Why we should expect the unexpected considering the amount of money the Raiders spent on the...

Read More