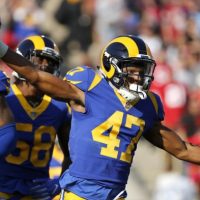 Last night was the first regular-season Thursday Night Football game but everyone's mind is on Antonio Brown, who just can't stay out of the headlines.
We checked in with former LA Rams CB LeRoy Irvin to get his perspective on AB and how the NFL is definitely not the same today as it was when he played.
Irvin played cornerback for The Rams from 1980 to 1989, including two Pro Bowl appearances in 1985 and 1986. He holds the record for most punt return yards in a single game, set against the Atlanta Falcons in 1981.
The full interview can be heard here: https://www.lvsportsnetwork.com/episode/09-06-cofield-co-hour-1/ (38:08 – 49:32 mark)
Irvin currently co-owns a company with a former Rams teammate in California.
The Raiders are preparing for their first season in Las Vegas and the full roster is still being looked into. DE Jadeveon Clowney is now in the conversation as a possible acquisition for the Raiders. Former Raiders...

Read More
The Raiders are preparing for their first season in Las Vegas and the full roster is still being looked into. DE Jadeveon Clowney is now in the conversation as a possible acquisition for the Raiders. Former Raiders...

Read More
The President of the United States of America tweeted that Bubba Wallace should apologize to the other Nascar drivers today. Exavier Pope (Pope Law Firm) joined us on Cofield & Co. to discuss the ordeal and talk...

Read More