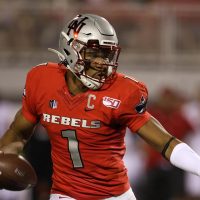 After an ugly night from the Rebel offense, Kenyon Oblad stepped into a blowout game with 3:33 left in the fourth quarter. He went 3 of 3 for 70 yards including a 56-yard touchdown strike to Randal Grimes.
It was the highlight of the game and a pass that may have Tony Sanchez making a major shakeup just two games into the season.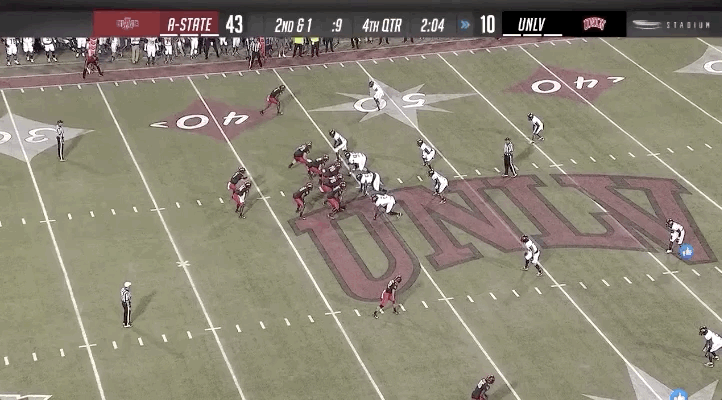 That coupled with Armani Rogers' nightmare night with 42 yards on 8 of 23 passing and one interception led Tony Sanchez to consider opening up the quarterback spot for competition.
"We gotta get going in the passing game, at the quarterback spot," Sanchez said. "If there's gotta be a little bit of a battle there. I think we're going to talk about that."
The poor quarterback play headlined a disastrous night in a 43-17 loss to Arkansas State. Rogers was just 7 of 19 through the air in the first half.
"We got find some rhythm in the passing game. We can't just rely on handing the ball off over and over and over. The thing that really frustrates me is the accuracy. There were some dropped balls early, you gotta help him out a little bit. But too many ball below the guy's knees, in the dirt. It seems like we are always going down for them."
Sanchez did not place the blame entirely on Rogers. He thinks the coaching staff did not put him in the best position to succeed.
"We have to do a better job in our game plan. I didn't think we took enough shots early on. I thought they gave us some opportunities to throw the ball down the field," Sanchez said.
The problem with throwing down the field is Rogers' inaccuracy. He has completed 22.5 percent of his passes that travel over 20 yards in the air. The majority of the time he overthrows a receiver in a one-on-one matchup, like he did on this third and five.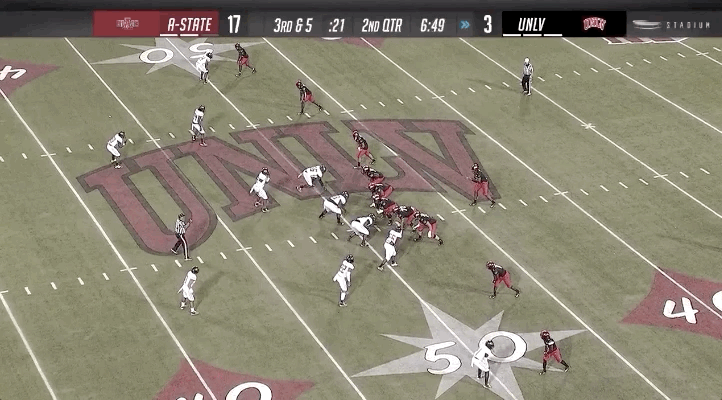 The other issue for Rogers was the pass protection. He finished the game 8 of 23 for 42 yards and one interception. He was sacked six times for a loss of 40 yards. UNVLV netted 2 yards on the 29 pass plays called for Rogers.
"Armani is a great kid and a great competitor," Sanchez said. "We have all seen all the great things he has done. He's a hell of a football player. This is not all on him. He was getting knocked over left and right tonight."
Ultimately Rogers has completed just 49.1 percent of his passes over three seasons. Inaccuracy has plagued the UNLV offense over the last three years. And has led Sanchez to consider a change.
But the next game on the schedule is a road trip to Northwestern. If UNLV does make a change at quarterback, Oblad will make his first career start on the road against a Big Ten team.
Here are some tweets from Jesse Granger with renderings of the proposed new home of the Henderson Silver Knights. Here are some renderings of the future Henderson Event Center, home of the AHL's Silver Knights. Courtesy of...

Read More
FOR IMMEDIATE RELEASE MAY 26, 2020 NHL ANNOUNCES RETURN TO PLAY PLAN FOR 2019-20 24 Teams Will Restart Play, Compete for Stanley Cup 2 "Hub" Cities Will Play Host to Games Protocol for Players' Return to...

Read More
We will go deep into the vault to bring you classic ESPN Las Vegas Videos.  Some of these videos are from over a decade ago. Frank on the NHL Awards red carpet from 8 years...

Read More