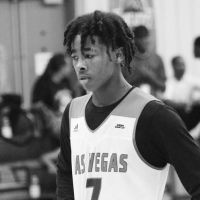 T.J. Otzelberger is looking far into the future despite being the head coach at UNLV for less than six months.
Keshon Gilbert pledged to UNLV today, according to his AAU team.
KnickBoi 2021 6'2 PG Keshon Gilbert @kg2times has Committed to UNLV ????⚫️⚪️#MWC #TheKnickWay pic.twitter.com/EXiwy75KMU

— Las Vegas Knicks (@LV_Knicks) September 8, 2019
The 6-foot guard is not a 2019 or 2020 commit. He is in the class of 2021. He won't be able to suit up for UNLV for another two years.
But Gilbert continues the local trend for Otzelberger in recruiting, as he comes from the Las Vegas Knicks and Durango High School. Otzelberger landed three players with ties to Las Vegas for his 2020 class in Jhaylon Martinez, Nick Blake and Donavan Yap.
247 Sports ranks Gilbert as a three star and the 157th best player in the 2021 class.
JT THE BRICK TALKS TO VEGAS GOLDEN KNIGHTS GM, KELLY McCRIMMON ABOUT THE FIRING OF GERARD GALLANT, THE UPCOMING TRADE DEADLINE, AND MORE…...

Read More

JT THE BRICK WITH KELLY McCRIMMON 01/29/20

JT The Brick
Las Vegas Raiders President Marc Badain joined The Press Box Morning Show, with Clay Baker and Ryan McKinnell, and expounded on the busy week as they officially announced the new team logo and team name, Las Vegas...

Read More
All Golden Knights fans will be able to place a $50 per seat season ticket deposit beginning now by visiting http://vgk.io/ahl-vegas. Season ticket deposits are refundable. Current Vegas Golden Knights ticket members who place a deposit will...

Read More