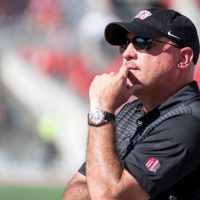 Tony Sanchez has to make a change. Either his offense needs to rely more heavily on the run game, or he needs a new quarterback.
Armani Rogers completed 8 of 23 passes against Arkansas State. It was a dreadful performance that has highlights the quarterback's biggest issue: accuracy.
Following the 43-17 loss to Arkansas State, Sanchez was vocal about his quarterback's play.
"The thing that really frustrates me is the accuracy," Sanchez said. "There were some dropped balls early, you gotta help him out a little bit. But too many balls below the guy's knees, in the dirt. It seems like we are always going down for them."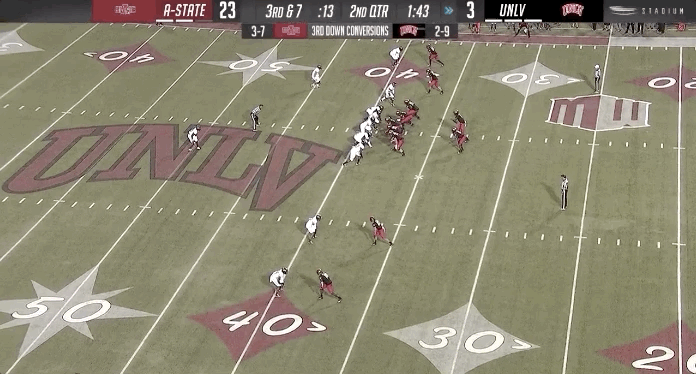 For his career, Rogers has converted on just 49 percent of his passes. While 8 of 23 against Arkansas State is below even Rogers' usual play, the lack of accuracy is not a new problem. He has failed to show any improvement in his career, especially on passes over 10 yards in the air, where he was 0 of 6 against Arkansas State.
He often over throws passes down the field. His career completion percentage on passes that travel over 10 yards in the air is 35.1 percent.
Despite his struggles, Sanchez still wanted to see Rogers throw it deep.
"We have to do a better job in our game plan. I didn't think we took enough shots early on. I thought they gave us some opportunities to throw the ball down the field," Sanchez said.
It sounds foolish, but the logic is sound. UNLV is basically playing a numbers game to decide if they run or pass.
"We're really not worried about balance there," Sanchez said. "If you are going to be heavy box, then we are going to throw the football. If you are going to be lighter in the box, then we are going to run the football. It's a number count deal."
That is precisely how an offense should operate. Take advantage of what the defense does. The problem for the Rebels is Rogers can't consistently take advantage of a loaded box. And instead of trying to do what UNLV does best, run the ball, they let the defense dictate their play calls too often.
"You want to make sure the defense is always trying to figure things out. They are going to play their hand first. You are going to see what they are doing in the box and you have to adjust to it," Sanchez said.
So instead of relying on their dominant rushing attack, they let the defense dictate their plays.
UNLV has run the ball on 68 percent of plays when Armani Rogers is the starting quarterback over the last three seasons. In the past, the Rebels have forced the run game. And had success. But in the first half against Arkansas State UNLV ran the ball on just 48 percent of their possession.
That is not playing to the strength of this team.
Through two games, UNLV has made a significant change to the offense from last season. Rogers is running less.
"The thing that is different this year, is so much of what we did the first four weeks (of last season) was the quarterback run game. It was a huge, heavy portion of (the offense). That hasn't been as big of what we are doing now," Sanchez said.
That is partially to keep Rogers healthy, as he has missed nine games in the last two seasons. But also to make sure other quarterbacks are able to step into the offense without major adjustments.
"What we're doing translates to all three without having to make any real adjustments," Sanchez said. "Obviously when Armani's in there, and we haven't done a lot of it yet, he's available to lean on with some quarterback run game. You are not going to do a lot of that stuff with Kenyon (Oblad). You might be able to do a little bit with Max (Gilliam). The nice thing now is all three of them can come in and we don't really have to change anything."
This where Oblad fits in as UNLV's starting quarterback. If Sanchez wants to run an offense that is suitable for all three quarterbacks, an offense that will take advantage of a defense overloading the box, he has to make a change away from Armani Rogers.
The reason Armani Rogers is a good collegiate quarterback is because of the designed quarterback runs. Eliminating or decreasing those plays limits the success Rogers can have. Instead UNLV has gone to more run pass option plays, and Rogers hasn't looked good.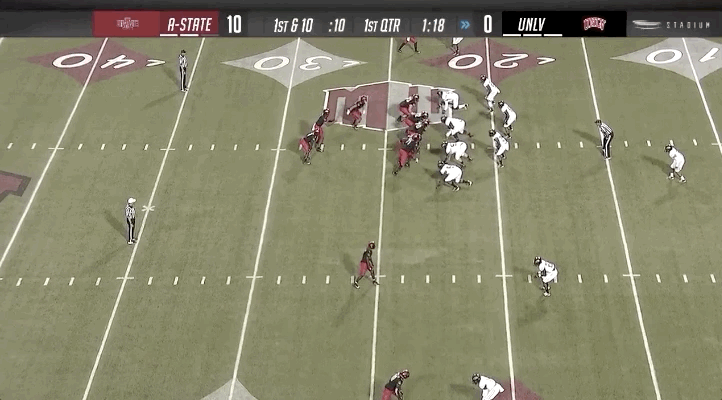 Meanwhile, Sanchez sees the RPO game as a situation for Oblad to excel.
"The RPO game and all that is really Kenyon's wheelhouse," Sanchez said. "That's really where he's the most comfortable."
If Sanchez does not change back to a quarterback run heavy offense, and sticks with an offense that reads the box to determine if they should throw or pass, then he has to go with the quarterback that is more comfortable.
Rogers makes the right read on this RPO. There is a seven-man box with the safety creeping up. As the handoff is initiated, safety commits to the run. That leaves a one-on-one matchup on the outside.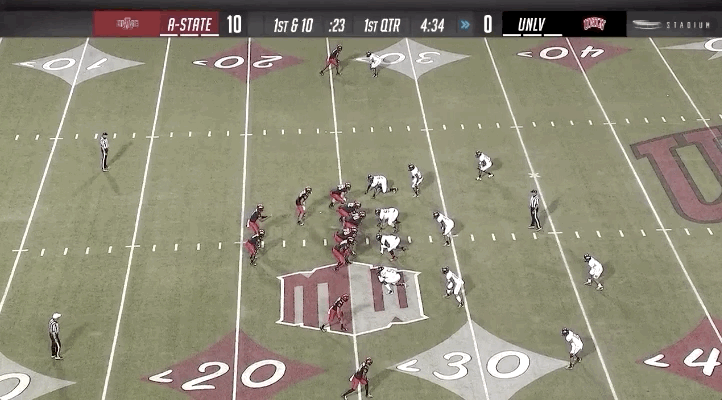 But Rogers overthrows the post route.
While we know Rogers will not consistently succeed in that offense, Oblad is a question mark. He has thrown 19 collegiate passes, all of which have come in garbage time.
His best throw on Saturday was this curl.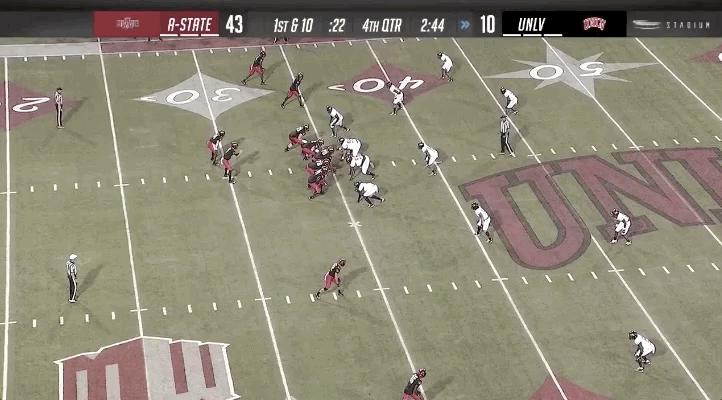 UNLV runs a route combo with a deep, intermediate and short option. Oblad waits out the defender who jumps the flat and throws right to the space he abandoned. It is not a throw Rogers makes consistently.
This came with UNLV down by 33 points and against Arkansas State's back ups. So it does not mean much as far as future success.
We can look back to last season when Rogers missed six games due to injury and UNLV went 1-5. They handed San Jose State and New Mexico their only conference wins of 2018.
The worst of the stretch came against New Mexico, where the Rebels failed to pick up a first down on their first six drives of the game, while the Lobos jumped out to a 22-0 lead.
The main problem without Rogers was UNLV's rushing attack. UNLV's production on the ground fell from 298.8 yards per game to 149.8. The yards per carry dropped from 5.7 to 3.9.
5.7 yards per carry would rank in the top 10 nationally; 3.9 yards per carry would rank 96th nationally. UNLV went from one of the nation's best rushing teams to one of the worst without Rogers.
And the scoreboard showed it. UNLV scored 33.5 points per game with Rogers starting, but only put up 27.3 with Gilliam. For a defense that has given up over 30 points per game every season under Tony Sanchez, that six-point difference is massive.
Gilliam actually posted decent passing numbers. He completed 55 percent of his passes and threw for over 220 yards per game with 13 touchdowns in six starts.
But 10 of those touchdowns came with UNLV down by more than a seven points. Plus over 50% of his yards came when trailing by more than one score.
Simply, Gilliam racked up decent passing stats while the Rebels were uncompetitive.
Which brings us back to Oblad. How good does he have to be to supplant Rogers and make the offense better?
If 55 percent, 220 yards and over two passing touchdowns per game is not enough. Does Oblad need to hit on 65 percent of his passes with over 300 yards and three touchdowns per game?
Those numbers would make him the best quarterback in the Mountain West, as no one threw for three touchdowns per game last season or 300 yards. If Tony Sanchez has had the best quarterback in the Mountain West sitting on his bench for the last 14 games, UNLV has a bigger problem than who should start at quarterback.
The changes to the offense in 2019 are reasons for optimism that a different quarterback can come in and not hinder the Charles Williams and the running game. Williams is 1 of 4 players in the country with 300 rushing yards on the season.
But Rogers' importance to the run game is still apparent.
On Charles Williams' 78-yard run on Saturday, the mere threat of Armani Rogers keeping the ball made three defenders on the near side of the line freeze, rather than pursue Williams.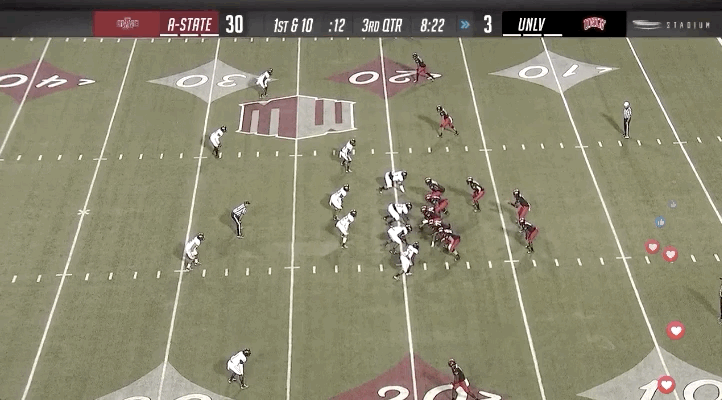 Even with a modified offense, defenses still have to account for the chance Rogers pulls the ball and runs. That threat completely disappears with Oblad in the game.
Sanchez has to decide if he wants to keep forcing Armani Rogers into an offense that doesn't fit his skill set, or turn to a freshman that might be able to turn the passing game around.
UNLV Rebels made national headlines today after removing the Hey Reb statue, due to its ties to confederacy. Paul Gutierrez (Espn – Raiders) is a UNLV alum and joined us on Cofield & Co. to share his...

Read More
The NFL will return soon, as the Raiders prepare for their first season in Las Vegas. Zack Crockett (former Raiders FB) is a SE Scout for the Raiders and joined us on Cofield & Co. to tell...

Read More
The NBA season will finish this season in Orlando but there are still many obstacles to overcome with the players and with the pandemic. Zach Harper (The Athletic – NBA) joined us on Cofield & Co. to...

Read More