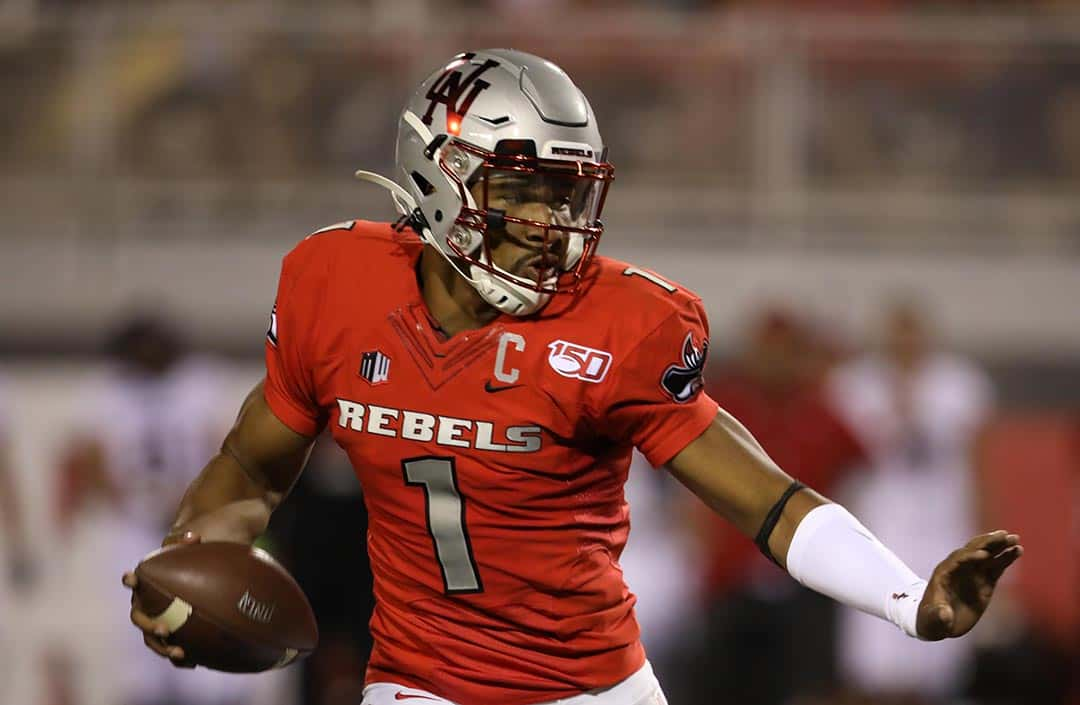 We are only three weeks into the season, but UNLV's offense has already cracked. The Rebels rank 99th in S&P+, the lowest they have been in the Tony Sanchez era.
UNLV was held to 17 points by Arkansas State and 14 points by Northwestern; it was the first time since Tony Sanchez's first year that the Rebels were held under 20 points in consecutive games. In 2015, UCLA and Michigan held the Rebels under 20 in a three-win season for UNLV.
In a year where Tony Sanchez has to make a bowl game, UNLV's offensive struggles could be costly.
The obvious start of problems is at quarterback. Armani Rogers has completed 53 percent of his passes for 306 yards, one touchdown and two interceptions. UNLV ranks 123rd in the country in yards per attempt at 5.4.
They are not creating big plays or completing a high number of passes, leaving the offense overly reliant on the running game.
Even with Charles Williams ranking second in the country in rushing yards, the Rebels still can't score.
All three games have been different for Rogers. Week one saw an easy victory over Southern Utah. UNLV introduced a new set of screen passes that let the receivers do the work on easy passes. But that was an FCS opponent that UNLV overwhelmed.
The coaching staff put Armani Rogers in a situation where he could not succeed in week two. They asked Rogers to throw 19 times in the first half alone. The Rebels ran the ball 48 percent of the time in the first half against Arkansas Sate, despite the Rebels running the ball on 68 percent of plays over Rogers first two seasons worth of starts. UNLV trailed 23-3 at halftime.
Then in a road matchup with the Big Ten's Northwestern, UNLV turned back to an offense that favors Rogers. There were less run pass options and more designed quarterback runs. There were less deep shots, and more underneath throws.
Just 5 of Rogers' 26 passes against Northwestern were over 10 yards in the air. For his career Roger has completed just 35 percent of his passes traveling over 10 yards in the air. Limiting those passes is critical to giving Rogers a chance to succeed.
The Northwestern game was just the fourth time Rogers completed over 60 percent of his passes against an FBS opponent.
While 26 throws sounds like a lot for a struggling passing game, UNLV had thrown just 13 passes through three quarters and six of Rogers' pass attempts came in the final minute with the Rebels down three scores.
The situation dictated the passing uptick, where the 19 first half passes against Arkansas State was the designed gameplan.
Rogers has not had a fair chance this season. After dusting an FCS opponent, he was thrown into a gameplan that did not fit his skillset and then given a road game against a power conference opponent. Assuming UNLV sticks with the designed quarterback runs and short passing game when they travel to Wyoming next week, we will finally have a game to evaluate Rogers.
But the quarterback spot is not the only issue for the Rebels.
After surrendering no sacks in the opener, UNLV has allowed 11 sacks over the last two games, making Armani Rogers the most sacked quarterback in the Mountain West.
The worst of which came against Arkansas State where a three-man rush led to a sack.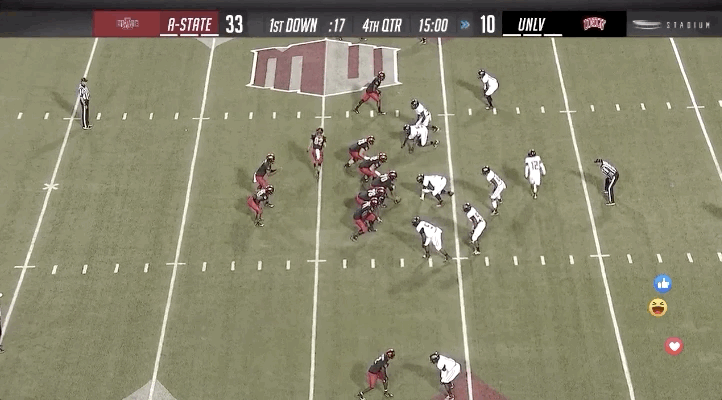 Center Sid Acosta is simply shoved out of the way, leaving Armani Rogers with a defender in his face in less than two seconds. After posting solid sack rates over Sanchez's first four seasons, UNLV is allowing a sack on 11.1 percent of dropbacks, a high mark over the past five seasons.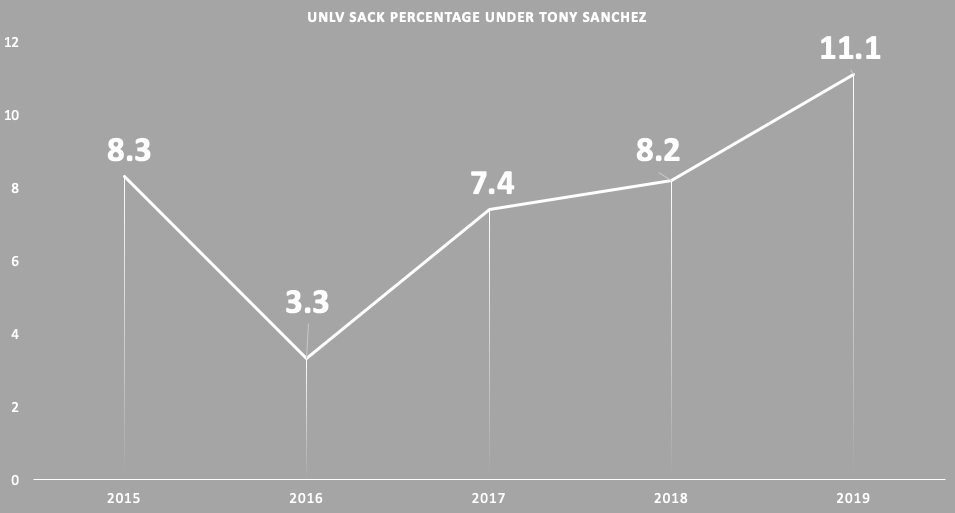 If UNLV can't protect the quarterback, it won't matter who is taking snaps, the passing game will remain a sore spot.
Beyond the offensive line, UNLV's receivers have not impressed the last two games. With the short passing game, UNLV was looking to get the receivers the ball and let them pick up extra yards. But on Rogers' 16 completions, UNLV picked up just 78 yards after the catch. That is an average of 4.9 extra yards on every catch, with no receivers gaining more than 11 yards after a catch.
UNLV is desperate to get the ball into Tyleek Collins hands, but he struggled to create explosive plays against Northwestern.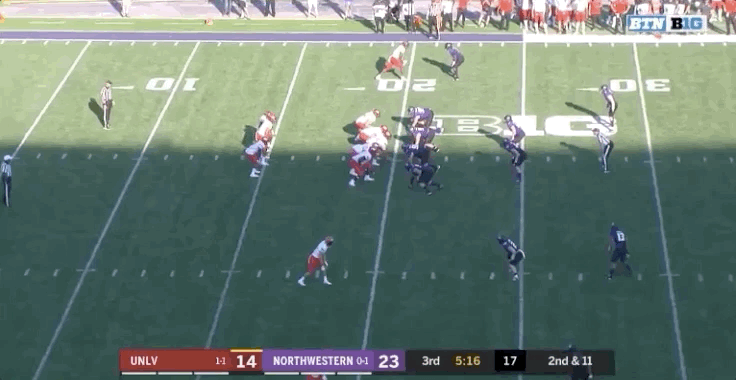 Collins caught four passes at or behind the line of scrimmage, but he never picked up 10 yards and never moved the chains with a first down.
On top of a lack of yards after catch, UNLV's receivers have not shown an ability to separate from defensive backs to get open down field. Rogers' accuracy is always a problem, but he is rarely missing wide-open targets down the field. Every deep shot he takes is to a receiver with a defensive back on his hip.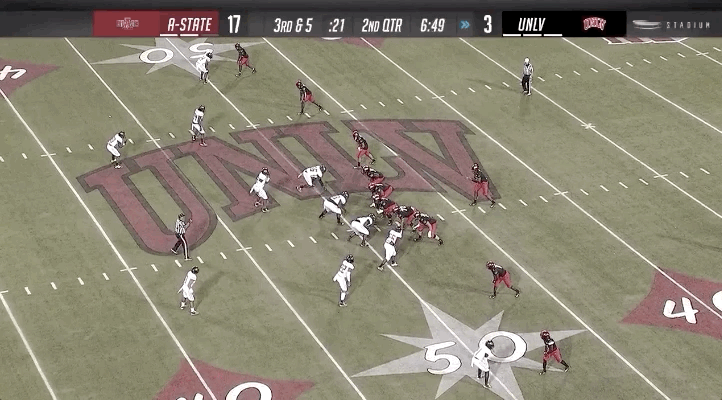 If the Rebels created separation down the field, the deep passing game might have a chance, even with Rogers at quarterback.
All of UNLV's passing game problems can be summed up in a single play against Arkansas State.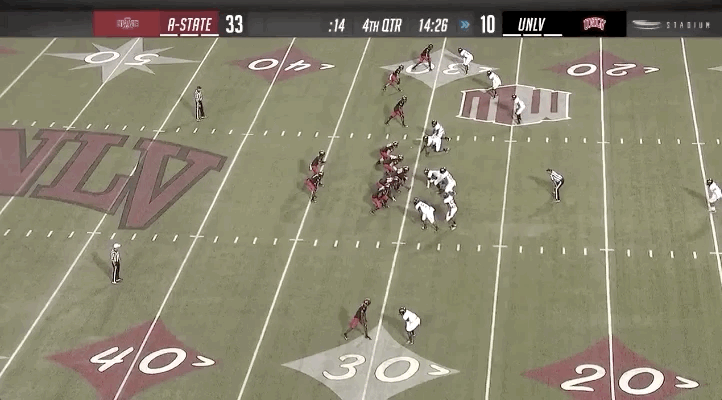 Rogers overthrows his target and into double coverage. It is a bad decision and a bad throw. But the offensive line allows a three-man rush to create pressure and hit Rogers as he throws. And to cap it off, Randal Grimes never creates a single step of separation on the cornerback. Even if the safety wasn't waiting over the top, Grimes did not get open.
A new quarterback would alter the offensive, but Kenyon Oblad will not succeed if the offensive line continues to struggle and the receivers fail to get open or create extra yards.
Time 7:30pm, game played in Carson California...

Read More