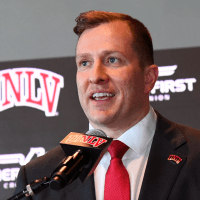 T.J. Otzelberger continues to load up in the 2020 recruiting class, this time adding a junior college point guard.
Nick Fleming announced his commitment to UNLV this afternoon. Fleming a 6-foot guard from Marshalltown Community College in Georgia.
As a freshman last season Fleming averaged 10.6 points, 2.8 rebounds and 2.7 assists per game at Marshalltown. He played in 29 games, while making 12 starts.
Fleming seemingly had the green light to shoot from three at Marshalltown, as he took 131 threes. in 644 minutes. That rate works out to 8.1 threes per 40 minutes.
No one attempted eight threes per 40 minutes last season for the Rebels.
But Fleming only connected on 30.5 percent of his triples; the NCAA Division 1 average from beyond the arc is 34.4 percent. He will need to improve his accuracy to make an impact under Otzelberger.
Fleming will join the Rebels after this season as a member of the 2020 recruiting class. He joins a four-man high school class of Nick Blake, Jhaylon Martinez, Isaac Lindsey and Donavan Yap. Those four rank as the 13th best recruiting class in the nation by 247 Sports.
Former UNLV Basketball Great, Mark Wade appeared on The Press Box Morning Show with Ed and Clay and discussed the recent removal of the statue for team mascot, "Hey Reb" and how the decade-long question of using...

Read More
UNLV Rebels made national headlines today after removing the Hey Reb statue, due to its ties to confederacy. Paul Gutierrez (Espn – Raiders) is a UNLV alum and joined us on Cofield & Co. to share his...

Read More
The NFL will return soon, as the Raiders prepare for their first season in Las Vegas. Zack Crockett (former Raiders FB) is a SE Scout for the Raiders and joined us on Cofield & Co. to tell...

Read More