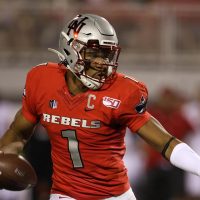 Before the UNLV Rebel Football team hit the team charter for Laramie, Wyoming, Head Football Coach Tony Sanchez joined The Press Box Morning Show and discussed Saturday's match up.  Coming off a bye week, Coach Sanchez explained how the offense won't change much because of it's running attack, which boasts as the 23rd Top Rushing offense in the Nation.
With that said, UNLV is just 121st in Passing Offense, as Sanchez revealed they need to stay with that identity, "We got to run the football and put ourselves in manageable passing situations.  But we're never going to just be "Air UNLV" because we're going to run first and set ourselves up to pass".
Below is the Tony Sanchez interview with Ed and Clay on The Press Box Morning Show.
The Raiders are preparing for their first season in Las Vegas and the full roster is still being looked into. DE Jadeveon Clowney is now in the conversation as a possible acquisition for the Raiders. Former Raiders...

Read More
The President of the United States of America tweeted that Bubba Wallace should apologize to the other Nascar drivers today. Exavier Pope (Pope Law Firm) joined us on Cofield & Co. to discuss the ordeal and talk...

Read More
The Raiders have the #1 O-line in the NFL, according to Pro Football Focus. Lincoln Kennedy (former Raiders OT) joined us on Cofield & Co. to discuss the team's upcoming season and their offensive line, which was...

Read More