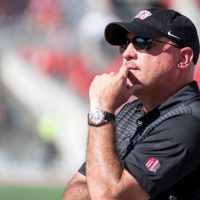 Armani Rogers struggled again, completing just 6 of 13 passes for UNLV.
Tony Sanchez pulled the plug on his quarterback after Rogers stared down a receiver and  threw an interception, his third in as many games.
Kenyon Oblad assumed the quarterback position, but his first two passes were spiked into the ground, nowhere near his intended receivers. The freshman quarterback improved his accuracy in the second half, but only completed 16 of 31 passes for 176 yards, as the offense sputtered.
But the 53-17 loss displayed many more problems than just the quarterback position. The Rebels lost Charles Williams to a knee injury and failed to sustain any sort of running game.
UNLV entered the game averaging 243 rushing yards per game, 22nd best in the nation. But the Cowboys defense held the Rebels to 77 yards on 33 carries. The 2.3 yards per carry was the Rebels second worst mark in the Tony Sanchez era.
The run game has been largely dependent on big plays from Charles Williams and Armani Rogers. With neither in the game, the Rebels produced a non-existent rushing attack.
With the offense struggling, the Rebel defense did not keep them in the game. Wyoming ran for 374 yards. The first 18 plays for the Cowboys were run plays. When UNLV adjusted and put 10 players in the box on a third and one, Wyoming struck on a play action pass for a 56-yard touchdown.
UNLV had no answer for the Wyoming offense, which had not scored more than 23 points the last three weeks in games against Texas State, Idaho and Tulsa.
Tony Sanchez's football team doesn't have answers. In any phase of the game.
Now the Rebels are 1-3 and will likely be double-digit underdogs in the next four games of the season, as UNLV plays Boise State, Vanderbilt, Fresno State and San Diego State in succession. 1-7 is staring UNLV in the face
With Tony Sanchez's job likely dependent on bowl eligibility, a 1-7 record would doom the fifth-year coach.
But for now, Desiree Reed-Francois is not considering making a change.
She told the Las Vegas Sun, ""Come on. It's our first conference game. We've got a lot of football left to play and we're going to continue supporting this football team."
The UNLV football head coaching position could be filled any day now, and there are a lot of names that have been discussed already. Caleb Herring (UNLV FB color analyst) joins us on Cofield & Co. weekly...

Read More
College basketball is in full swing, with plenty of games being played throughout the week. Joe Esposito joins us weekly on Cofield & Co. to break down the games and bring his insight into the matchups. We...

Read More
The enemy is back!! Former UNLV coach Chris Beard is in Las Vegas as his Red Raiders take on Iowa at The Orleans Arena. Hawkeyes coach Fran McCaffery joined Joe Esposito on Cofield & Co. to talk...

Read More