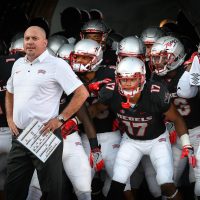 Throughout the Tony Sanchez era, UNLV has scored points. The offense has never been the reason UNLV failed to make a bowl game.
But after a 31-13 loss to Boise State, UNLV has been held under 20 points in four straight games, the longest streak of the Sanchez era.
The problems are plentiful, but are highlighted the brightest at the quarterback spot. Despite struggling to have an efficient passing game, UNLV continues to call pass plays at an alarming rate. With a freshman quarterback making his first career start, the Rebels called 17 pass plays and 17 run plays in the first half against Boise State.
"The run game, we probably should have committed to more early on," Sanchez said.
Even when Armani Rogers was the quarterback earlier in the season, UNLV relied on the passing game, calling 21 pass plays to just 19 run plays in the first half against Arkansas State. UNLV has been an outstanding rushing team throughout the Sanchez era, but have quickly abandoned the run game in favor of below average quarterbacks airing it out.
Oblad finished the game with 262 yards on 24 of 55 passing. It was an atrocious night for the passing game, averaging just 4.8 yards per attempt. The freshman's stat line mirrored that of the struggling Rogers, who has completed 51.9 percent of his passes for 5.0 yards per attempt.
Rogers was cleared to play tonight, but a knee injury kept him on the sidelines, as Sanchez elected not to use his quarterback unless he was 100 percent. Rogers is at 65-70 percent, according to Sanchez, who hinted at a two-quarterback system.
"I'm not sure what we'll do right now. It'll probably depend on Armani's health. There may be a situation coming up where you see both quarterbacks in the game," Sanchez said.
UNLV did not dominate in the running game, rushing for 102 yards on 25 carries, with sacks adjusted out. That 4.1 yards per carry ranks second-worst in a game this season for the Rebels. But Charles Williams was given just 11 carries, which he turned into 57 yards. Williams had received at least 15 carries in the Rebels first three games of the season.
Sanchez is fully aware the offense needs a serious jolt.
"There's going to be some hard conversations we have to have in the staff room about things we are going to do. But we can do it."
A possible change could be to the offensive game planning and play calling. UNLV lost offensive coordinator Barney Cotton right before the season started, as Cotton needs a heart transplant. That led to Garin Justice being promoted to offensive coordinator.
"I know there was a lot on Garin (Justice's) plate, and I have to help him with that,' Sanchez said. "The transition was definitely tough. And I think you are starting to see in these tough games, figuring things out offensively. That change there definitely hurt a little bit."
The UNLV football head coaching position could be filled any day now, and there are a lot of names that have been discussed already. Caleb Herring (UNLV FB color analyst) joins us on Cofield & Co. weekly...

Read More
College basketball is in full swing, with plenty of games being played throughout the week. Joe Esposito joins us weekly on Cofield & Co. to break down the games and bring his insight into the matchups. We...

Read More
The enemy is back!! Former UNLV coach Chris Beard is in Las Vegas as his Red Raiders take on Iowa at The Orleans Arena. Hawkeyes coach Fran McCaffery joined Joe Esposito on Cofield & Co. to talk...

Read More