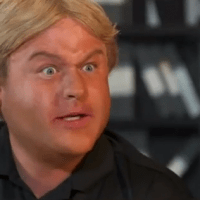 Acclaimed Comedian and Renowned Impressionist. Frank Caliendo joined Ed and Clay on The Press Box Morning Show and discussed his various voices, like Raiders Coach Jon Gruden and how the ability to quickly create voices causes both audiences and show writers to force his work, instead of allowing him to develop them normally.
"Human jukebox is difficult.  It's like magicians.   People just want the next magic trick.  But with David Copperfield, you're going to see David Copperfield, so I want to be the David Copperfield of Impressions.  I put myself out there, I know where that's from.  That's why I did "Hard Knocks".  But I'll go on a TV show and they'll rewrite the part for me to do the voices…can't I just have a part of me that develops a character on a show? "
However, Frank provided a great perspective on how audiences have followed the social media outrage over being offended at the very comedy designed to make you laugh and the decision he made to change the way he engages on Twitter.
And Voices?  Oh yeah — Frank delighted us with Jon Gruden, Jay Gruden, Former President George W. Bush, Jerry Jones, Terry Bradshaw, Charles Barkley, Morgan Freeman and Guardians Of The Galaxy with Tom Hiddleston among many other gems!  Also, Clay gets buried, multiple times in this interview, which is fine. CLICK BELOW & LISTEN!
Frank appears at Aliante Access Showroom on Friday 10/18 and Orleans Showroom Sat 10/19 FrankCaliendo.Com
Related News
FOR IMMEDIATE RELEASE MAY 26, 2020 NHL ANNOUNCES RETURN TO PLAY PLAN FOR 2019-20 24 Teams Will Restart Play, Compete for Stanley Cup 2 "Hub" Cities Will Play Host to Games Protocol for Players' Return to...

Read More
We will go deep into the vault to bring you classic ESPN Las Vegas Videos.  Some of these videos are from over a decade ago. Ballpark Frank (you will hear his voice) and Darian Cozier...

Read More
Here are some links to resources that may help you stay informed and knowledgeable. https://nvhealthresponse.nv.gov/ https://www.cdc.gov/coronavirus/2019-ncov/index.html www.southernnevadahealthdistrict.org/coronavirus. https://sites.google.com/nv.ccsd.net/covid-19updates/home#h.au7wl6jpawt9 Also if you are able to help, threesquare is doing great work here locally in...

Read More