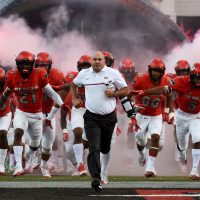 Tony Sanchez always pulls out a win he isn't supposed to grab. For his 2019 upset special, UNLV, a 14.5-point underdog, went to Nashville and crushed Vanderbilt.
The biggest advantage UNLV had was on the sidelines, as Tony Sanchez bested Vanderbilt's Derek Mason. Both teams have question marks at the quarterback position, but UNLV committed to the run game, while Vanderbilt attempted beat UNLV through the air.
UNLV ran the ball 53 times, while asking Kenyon Oblad to throw just 16 times. Vanderbilt, despite rushing for 7.5 yards per carry, called 41 pass attempts compared to just 22 rushes.
Oblad was efficient for UNLV, hitting on 11 of his 16 passes for 172 yards. Vanderbilt's Riley Neal and Deuce Wallace connected on just 16 of 41 passes.
The Rebels established the run game early, as the first drive saw Oblad throw just one pass, as 11 rushing plays led UNLV down the field for a touchdown.
Leading-rusher, Charles Williams was not even the most productive back for UNLV. Williams picked up 69 yards on 24 carries, just a 2.9 average. But Chad Magyar, in his 2nd game, ripped off 116 yards on 122carries.
UNLV ran the ball for over 200 yards without Armani Rogers at quarterback for the first time over the last three years.
Vanderbilt's Ke'Shawn Vaughn led all players with 140 rushing yards, but he was only tapped for 15 carries.
The Rebel defense also stepped up, as the 10 points scored by Vanderbilt was the 2nd fewest of any opponent in the Tony Sanchez era. It is also the best scoring performance by UNLV's defense against an FBS opponent since they held New Mexico to seven points in 2012.
While UNLV has not created havoc plays in the Sanchez era, the defense created two second half turnovers to seal the game.
Javin White picked off a Riley Neal pass and returned it 43 yards to set up a Rebel field goal. Then Rayshad Jackson forced a fumble into Nate Neal's hands, which would lead to another touchdown for the Rebels.
Vanderbilt had scored just six points the previous week against Ole Miss, and now fall to 1-5. It was the easiest of SEC opponents for UNLV. But an impressive win regardless.
It is a win that gives UNLV a glimmer of hope at making a bowl game. Now at 2-4, UNLV needs a 4-2 finish with Fresno State, San Diego State, Hawaii, Colorado State, San Jose State and Nevada left on the schedule
It's that time of year when we get to really see which NFL teams look like they could go far in the playoffs. Stanford Routt is a former NFL cornerback and one of our Raiders insiders. He...

Read More
It has been a pretty rough season for UNLV football, coming off three straight losses and losing their bowl eligibility. Caleb Herring, the color analyst for the Rebels, checked in with us on Cofield & Co. and...

Read More
It's been a rough season so far for many fantasy leaguers. Dustin Dehart from Nova Home Loans joins us every week with his fantasy football picks and insight and just like many of us, he is going...

Read More