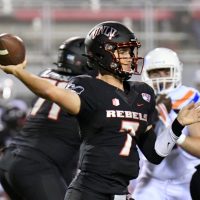 Coming off an upset win over Vanderbilt, UNLV looked to go to Fresno State and come away with another surprise victory.
But Kenyon Oblad threw three interceptions and the Rebels lost two fumbles, leading to a blowout loss, 56-27. Fresno State cashed in on the turnovers, scoring 28 points off the Rebel miscues.
It is the first time UNLV has turned the ball over 5 times since the 2011 season.
Though he threw three touchdowns, Oblad struggled in the passing game, as he completed just 16 of 34 passes with three picks.
But the bigger problem for UNLV's offense was an inability to run the ball. The Rebels put up 157 yards on the ground on 40 carries. At just 3.9 yards per carry, UNLV was never able to establish the run.
UNLV has not run for more than four yards per carry since Armani Rogers was injured against Wyoming.
On the defensive side of the ball, UNLV was gashed by Fresno State. The 10-point performance against Vanderbilt, appears to have been a mirage.
Jorge Reyna threw for 229 yards on 16 of 23 passing and the Bulldogs ran through the Rebel defense with 260 yards on 36 carries.
While the offense set Fresno State up for 28 points, UNLV's defense was still no match.
UNLV falls to 2-5 on the season, needing to win 4 of their last 5 games to reach bowl eligibility.
Agree or disagree, this list was compiled based on impact on the franchise. Could have been by the value of where the Raiders picked (a 5th rounder who shined is going to be raised up higher than...

Read More
Here's a list of the top 50 Draft Picks in Pro Football history, of course, some may disagree: We will update every day as we approach the draft. Number 27 – Richard Dent Dent was a four-time...

Read More
Here are some links to resources that may help you stay informed and knowledgeable. https://nvhealthresponse.nv.gov/ https://www.cdc.gov/coronavirus/2019-ncov/index.html www.southernnevadahealthdistrict.org/coronavirus. https://sites.google.com/nv.ccsd.net/covid-19updates/home#h.au7wl6jpawt9 Also if you are able to help, threesquare is doing great work here locally in...

Read More