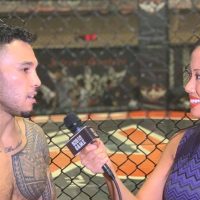 UFC middleweight Brad Tavares will be fighting Edmen Shahbazyan on November 2 at UFC 244.
Tavares last fought current UFC middleweight champion Israel Adesanya on July 6, 2018. He lost by unanimous decision. Prior to that fight, he was riding a four-fight win streak.
At Xtreme Couture, Tavares spoke to Helen Yee about his upcoming fight, Israel Adesanya's win over Robert Whittaker, fatherhood, and more.
Video below.
At Xtreme Couture, MMA legend Randy Couture spoke to Helen Yee about Stipe Miocic and Daniel Cormier. Video below....

Read More
At Xtreme Couture, MMA legend Randy Couture spoke to Helen Yee about Stipe Miocic and Daniel Cormier. Video below....

Read More
At Tomacelli Academy, Jason Mayhem Miller spoke to Helen Yee about the BMF belt, Nate Diaz, Jorge Masvidal, managing fighters, Israel Adesanya's walkout, wanting to train Rampage Jackson, and more. Video below....

Read More