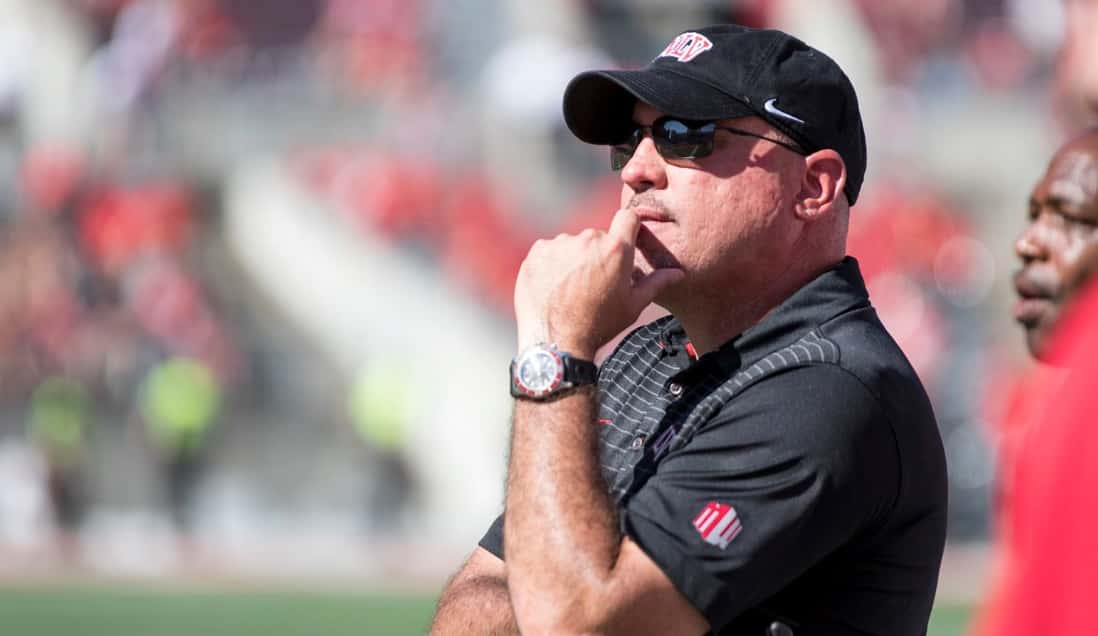 Following a four-win season in 2018, Tony Sanchez was given a clear expectation for 2019: Get UNLV into a bowl game.
Following a 37-17 loss at Colorado State, that expectation will not be met, as the Rebels are now 2-7 on the season. The blowout loss has brought Sanchez's job security to the forefront, as athletic director Desiree Reed-Francois said in a statement last November: "We are looking forward to a successful 2019 football season including bowl eligibility.
With seven losses, UNLV's only hope at a bowl game is for their to not be enough 6-6 teams to fill out all the bowl games this season.
Colorado State put the Rebels' bowl hopes on the ropes immediately, as Anthony Hawkins returned the opening kickoff 99 yards for a touchdown. Following a four-play offensive drive, UNLV allowed Colorado State to drive 54 yards on 5 plays for a touchdown.
Less than five minutes into the game, UNLV was down 14 points; they never got within two scores again.
The Rebel offense struggled, as they went into halftime with no points. But that can be credited to poor clock management, as the Rebels drove within two yards of the endzone before the second quarter clock ran out.
Tony Sanchez used his last timeout of the first half with the clock stopped on the final drive.
Over the course of the game, UNLV moved the ball on offense, but failed to turn the yardage into points. Kenyon Oblad hit on 22 of 39 passes for 280 yards. Plus Charles Williams added 83 yards on the ground, as UNLV ran for 107 as a team.
Defensively, UNLV struggled to tackle again, as Colorado State ran for 174 yards and starting quarterback Pat O'Brien threw for 234 yards on 17 of 27 passing.
The Rebels could not get off the field. The Rams converted first downs on 4th and 13, 3rd and 18 and 2nd 20 in the game.
The combined effort from the offense, defense and special teams led to a blowout loss and sealed UNLV's fate for 2019.
Here are some tweets from Jesse Granger with renderings of the proposed new home of the Henderson Silver Knights. Here are some renderings of the future Henderson Event Center, home of the AHL's Silver Knights. Courtesy of...

Read More
FOR IMMEDIATE RELEASE MAY 26, 2020 NHL ANNOUNCES RETURN TO PLAY PLAN FOR 2019-20 24 Teams Will Restart Play, Compete for Stanley Cup 2 "Hub" Cities Will Play Host to Games Protocol for Players' Return to...

Read More
Here are some links to resources that may help you stay informed and knowledgeable. https://nvhealthresponse.nv.gov/ https://www.cdc.gov/coronavirus/2019-ncov/index.html www.southernnevadahealthdistrict.org/coronavirus. https://sites.google.com/nv.ccsd.net/covid-19updates/home#h.au7wl6jpawt9 Also if you are able to help, threesquare is doing great work here locally in...

Read More