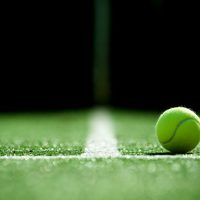 Women's professional tennis has returned to the Valley with a new name, a new location, but the same energy and action fans have come to expect.
The Henderson Tennis Open kicked off yesterday from its new home at Dragonridge Country Club with gorgeous weather welcoming some of the top rising women's players from all over the world with 2019 Australian Open implications on the line.
Las Vegas is the third of four consecutive women's hard-court tournaments that make up the women's side of the Challenge, which will award an American woman a main draw wild card into the 2019 Australian Open. The USTA and Tennis Australia have a reciprocal agreement in which wild cards into the 2019 US Open and Australian Opens are exchanged. The Challenge also included an $80,000 events in Macon, Ga., and Tyler, Texas, each of the last two weeks, as well as the WTA $125,000 Series event in Houston (week of Nov. 11).
The women's wild card will be awarded to the American with the highest cumulative total of WTA singles ranking points earned from their best three results during those four weeks. Only Americans who do not earn direct entry into the Australian Open are eligible. In the event of a tie, the player with the best ATP or best WTA singles ranking on Nov. 19 will be awarded the wild card.
The tournament's top seed, German-born Stephanie Wagner, opened play Monday on Day 1 of qualifying with a convincing win over American Joelle Kissell, 6-2, 6-1.
Local Las Vegas wild card Naomi Cheong, a senior at Odyssey Charter High School, fell in her first round of qualifying in straight sets to No. 7 Marcela Zacarias. Cheong represents the No Quit Tennis Academy and is coached by former UNLV NCAA doubles champion Tim Blenkiron. She is also a member of Team Bryan, supported by Bob & Mike Bryan and the Marty Hennessey Inspiring Children Foundation.
Other qualifying winners on Monday included American's Dalayna Hewitt, Jessica Livianu, No. 5 seeded Quinn Gleason, No. 9 seeded Alycia Parks, No. 4 seed Sophie Chang, Indonesia's Jessy Rompies, France's No 15 Marine Partaud, Spain's No. 16 Maria Gutierrez Carrasco, to name a few.
This is the 13th consecutive year that Las Vegas has featured women's professional tennis. The tournament, formerly held in Summerlin, is sponsored by City of Henderson, USTA Nevada, Crovetti Orthopaedics, UMC, Marquis-Aurbach-Coffing, and Renewal by Andersen.
Marty Hennessy Inspiring Children's Foundation is the tournament's official charity.
Formerly Held In Summerlin, the USTA Pro Circuit $60,000 Tournament Kicked Off On Monday for the 13th Consecutive Year....

Read More
Vegas Rollers WTT The Vegas Rollers World Team Tennis Team lost their match to the San Diego Aviators 23-18 Sunday night dropping their record to 4-7 for the season. With only three matches left the Rollers chances...

Read More
2019 Wimbledon Tennis Recap The 2019 Wimbledon Championships is over after a Historic Men's Final. Novak Djokovic defeated Roger Federer in the first ever tiebreaker to decide the Wimbledon Champion. Djokovic won all three tiebreakers in the...

Read More