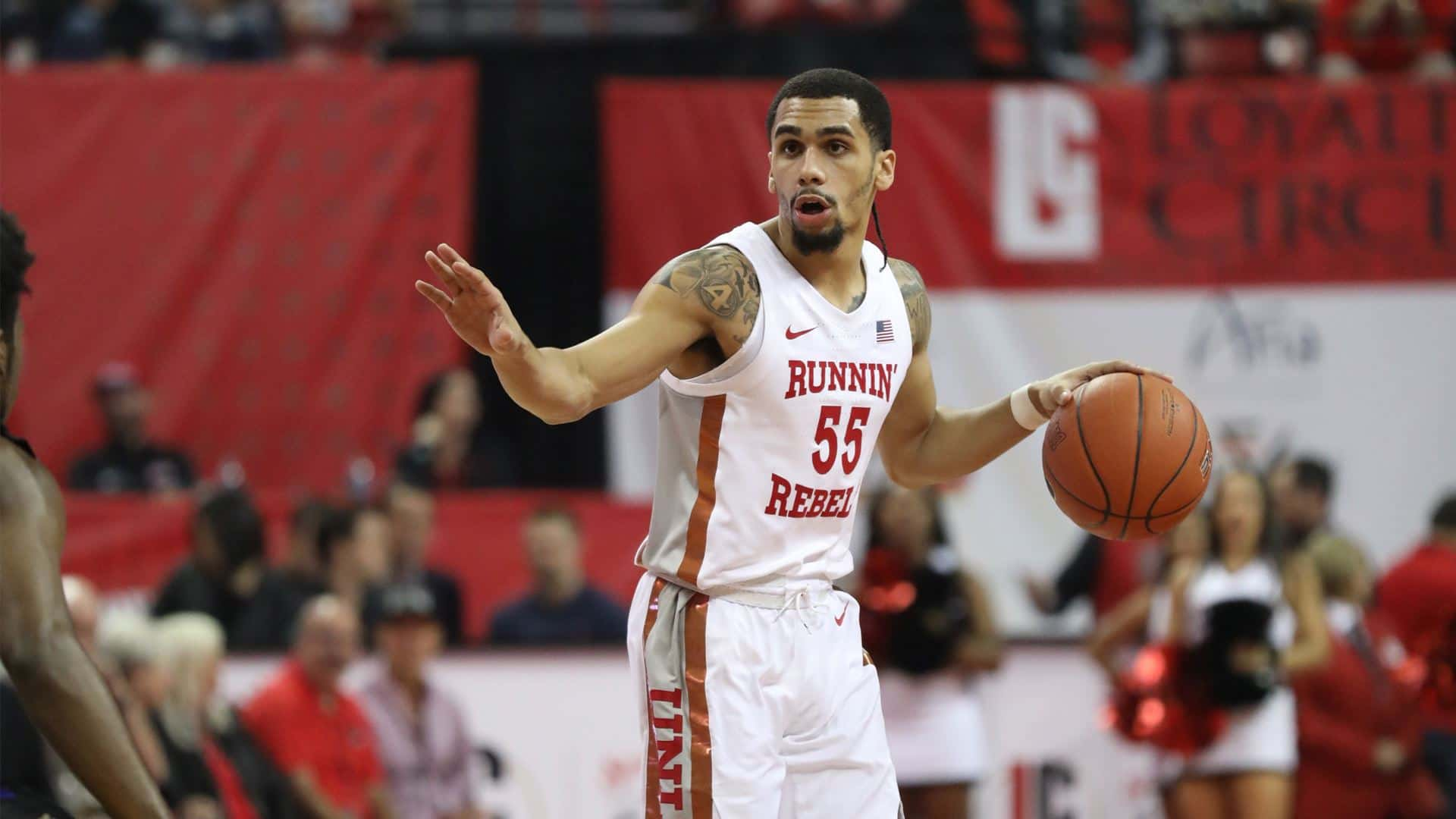 T.J. Otzelberger has only coached one game for UNLV, but he is already thrilled with the way his team has picked up his offense.
A stark contrast from his predecessor Marvin Menzies' post heavy offense, Otzelberger wants maximum spacing with non-stop ball and player movement. When the offense flows to his liking, Otzelberger will react with excitement that rivals any fan in the Thomas & Mack Center.
In UNLV's season opener, Amauri Hardy and Elijah Mitrou-Long combined for 26 points and 12 assists.
"I was really pleased with both of them," Otzelberger said. "Two plays stand out. Amauri has a drive where he found Elijah in the right corner and he banged a three. And I was like a little kid cheering before it went in because it was such a great play."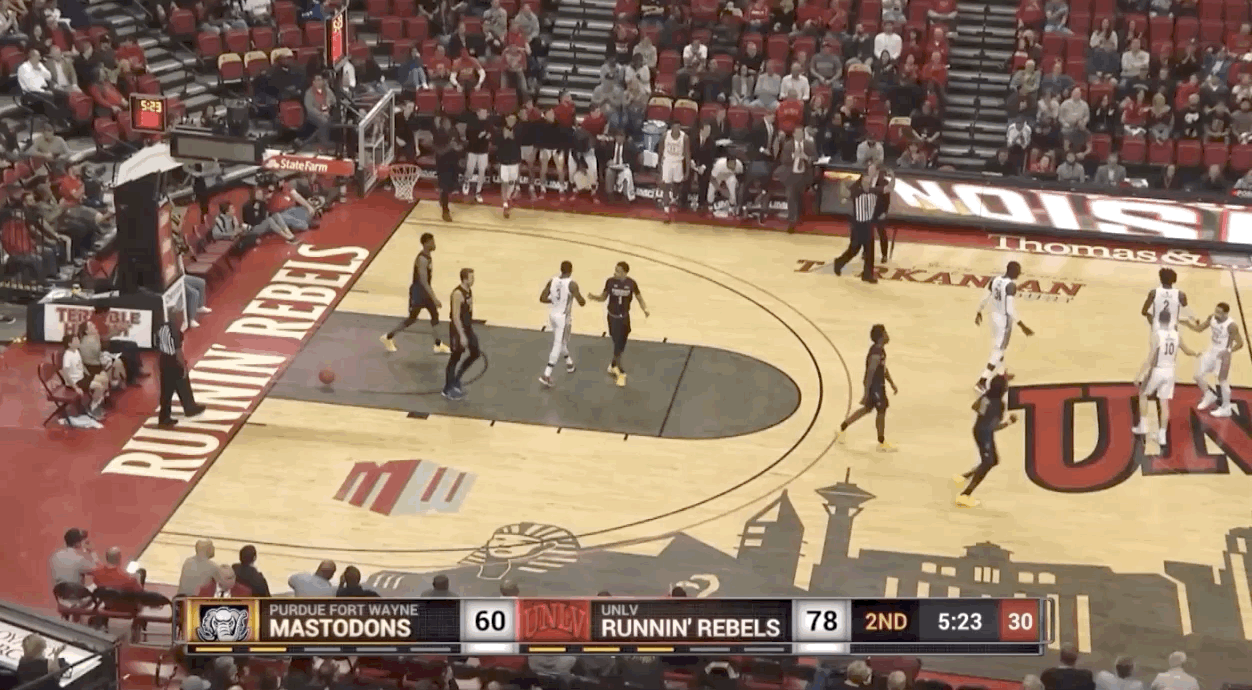 Otzelberger was pumped after Hardy's pass, so much so that a simple high-five after a timeout was not enough. He needed to give Hardy a hug too.
What Hardy did to deserve the praise was execute Otzelberger's motion offense. The Rebels run a continuity ball screen as their primary motion offense. It is an offense that features a constant barrage of isolated side ball screens and dribble handoffs.
UNLV looks to get a ball screen on one side of the floor with the three other Rebels spaced around the three-point line on the opposite side. If the ball screen doesn't produce anything, the ball is passed to the other side of the floor and a back door cut sets up the same exact isolated ball screen, but from the other side.
The offense forces defense to constantly help and rotate to defend ball screens and eventually break down and give up an open shot.
Here is the play where Hardy found Mitrou-Long that had Otzelberger giddy.
Hardy's drive and dish comes off the fourth ball screen or dribble hand off in a row. It was not perfectly run, as Diong had to catch a pass well past the three-point line and Donnie Tillman is on the wrong side of the floor as Hardy drives.
But ultimately the offense forced Purdue Fort Wayne to over help in the paint and led to a wide-open three that Otzelberger started applauding before it left Mitrou-Long's hands.
Purdue Fort Wayne was forced into over helping because of UNLV's first basket of the night. The Rebels came out running their continuity ball screen. On the second ball screen, Mbacke Diong found himself rolling to the basket for an uncontested dunk.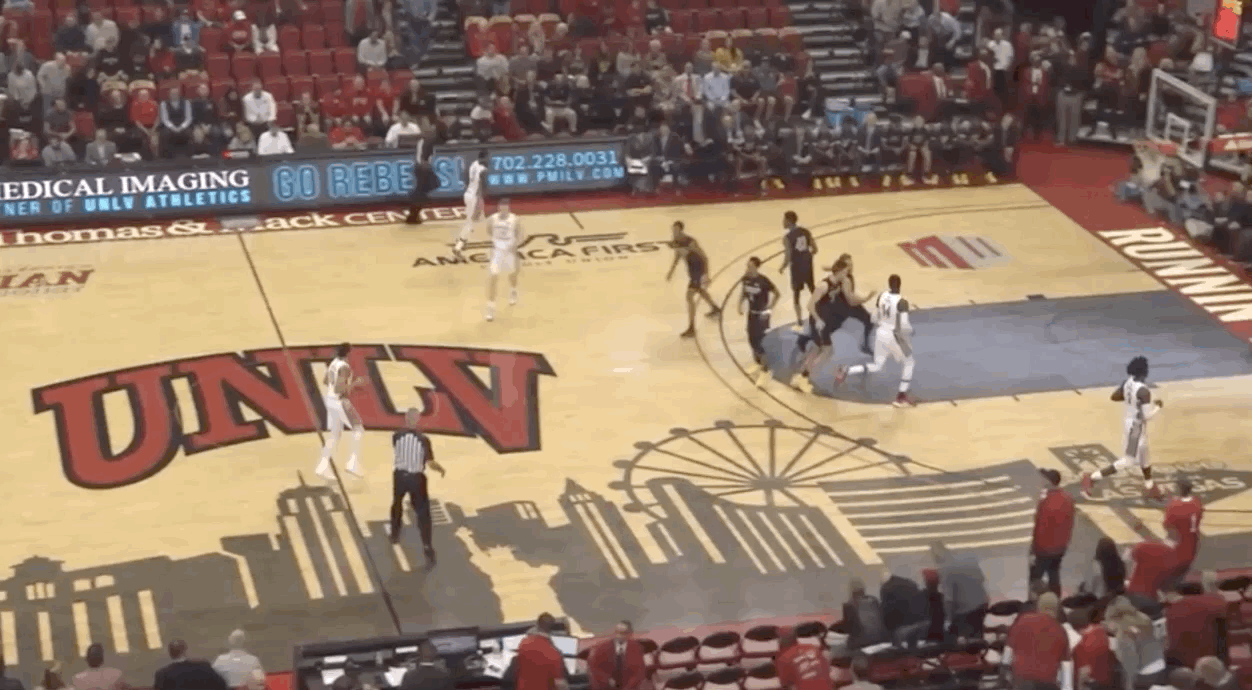 Elijah Mitrou-Long's defender abandons the paint to chase Mitrou-Long to the three-point line. As Purdue Fort Wayne struggles to defend the ball screen, Diong has a clear path to the basket. From that point Purdue Fort Wayne made sure to over help in the paint, leaving shooters open, including Jonah Antonio.
"Elijah had a play late where Antonio hit a three from the opposite corner," Otzelberger said. "Those are things we work on every day, driving the basketball to the paint and throwing that drift pass."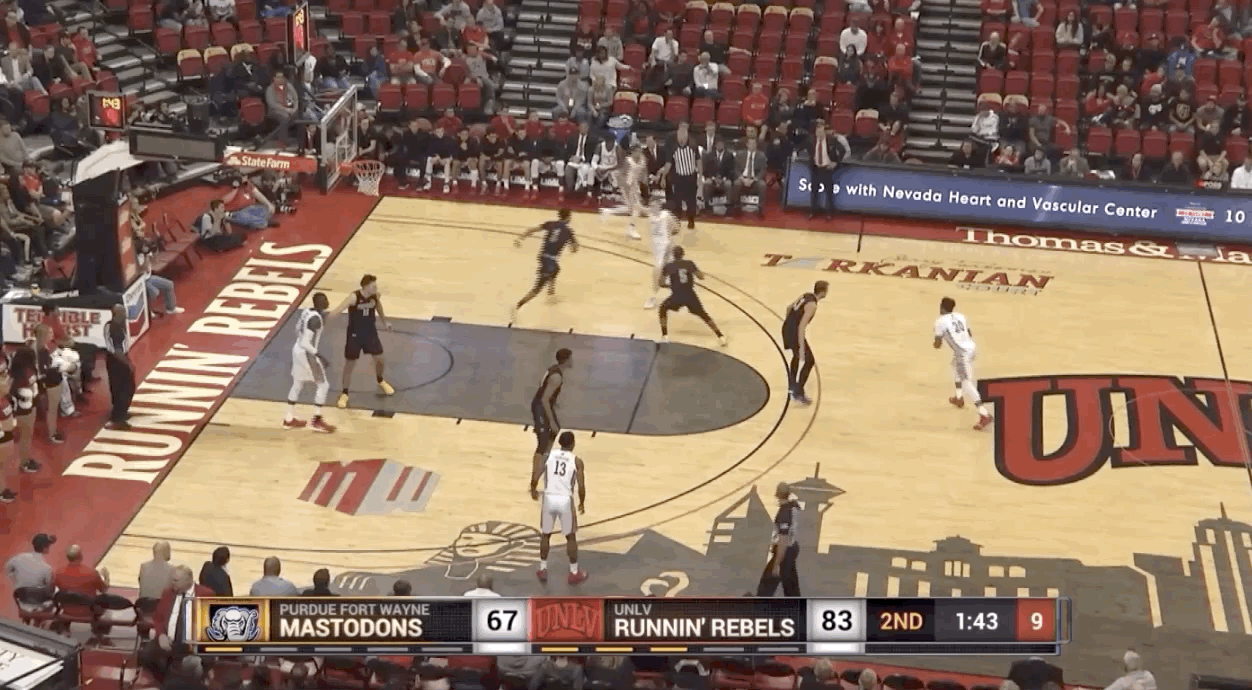 This came off the same ball screen continuity look, but instead of the help defender following Antonio to the corner, he stayed in the paint. All Mitrou-Long had to do was find his unguarded teammate.
Purdue Fort Wayne is not the stiffest completion for the Rebels. Talent discrepancy will likely make the offense look much worse throughout the season. But in one game, Hardy and Mitrou-Long have already shown the benefits of Otzelberger's scheme.
"I think with Elijah and Amauri, we have two guys that can command the game," Otzelberger said.
Former UNLV Basketball Great, Mark Wade appeared on The Press Box Morning Show with Ed and Clay and discussed the recent removal of the statue for team mascot, "Hey Reb" and how the decade-long question of using...

Read More
The Runnin' Rebels will lose their second-leading scorer from the 2019-20 season as Amauri Hardy plans to graduate and transfer away from UNLV. With Hardy gone, UNLV loses an offensive playmaker who may have struggled to consistently...

Read More
The Runnin' Rebels will lose their second-leading scorer from the 2019-20 season as Amauri Hardy plans to graduate and transfer away from UNLV. With Hardy gone, UNLV loses an offensive playmaker who may have struggled to consistently...

Read More