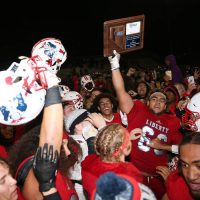 In a stunning comeback, Liberty finally found the magic it needed to defeat longtime rival, Bishop Gorman in Overtime, 30-24 to propel themselves out of the Desert Region Championship game.  Down 17-3 at the half, the Patriots scored twice in the third quarter and used their stifling defense to push the game to extra time and rode the energy of Running Back Zyrus Fiaseu for the game-winning touchdown.
It's been a wild year for Liberty, known as a regional power found themselves at 0-5 to begin the season but rallied back behind Head Coach Rich Muraco, who appeared on The Press Box Morning Show with Clay Baker and Rob Miech, explained how the team reacted once that final whistle blew.
"It was pure bedlam.  The whole school, everybody in the stands, all the families – everyone rushed the field.  Players crying, coaches crying, it was craziness.  It was pure joy and a moment I'll never forget."
CLICK BELOW FOR ENTIRE INTERVIEW
Liberty will now head to Reno for the Nevada State Semi-Finals and last Friday's win stopped a ten-year Nevada State Title streak for Bishop Gorman, who had not lost to a Nevada school since Nov. 21, 2008.
(PHOTO CREDIT:  Las Vegas Review-Journal Erik Verduzco)
The Astros and Rob Manfred have somehow managed to make the Astros' cheating situation worse. Voice of the LA Dodgers, Tim Neverett joined us on Cofield & Co. to help find some type of reasoning behind Manfred's...

Read More
Coach Mel Tucker bailed on his Colorado University commitment in favor of Michigan St. last minute and people are not happy. One of those people is former CU player Mike Pritchard, with ESPN Las Vegas. Pritch joined...

Read More
The emotions are still raw when it comes to talking about Kobe Bryant's legacy. Plenty of folks, especially in the media, think it's fair game to talk about his 2003 alleged sexual assault in Colorado. Gayle King...

Read More