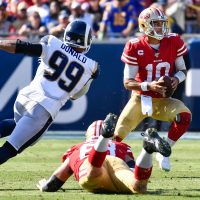 Who knows the NFL better than a former quarterback?
Clint Stoerner was QB for the Cowboys and the Dolphins. He joined us on Cofield & Co. and spoke on the Cowboys and what it's like for both former coach Jason Garrett and new coach Mike McCarthy to work with Jerry Jones.
We also got Stoerner's opinion on whether or not Bill O'Brien is a good coach.
Full interview can be heard here (23:59 mark)
Twitter – @ClintStoerner
Photo courtesy of fieldgulls.com
The NFL is just now starting to understand some of the issues it needs to improve on, especially with the current state of the country. Lorenzo Neal (former NFL FB) joined us on Cofield & Co. to...

Read More
The NFL is just now starting to understand some of the issues it needs to improve on, especially with the current state of the country. Lorenzo Neal (former NFL FB) joined us on Cofield & Co. to...

Read More
Drew Brees apologized for his comments yesterday but it didn't go over too well. Caleb Herring (UNLV color analyst) joined us on Cofield & Co. to discuss the comments and resulting apology, and why it doesn't sit...

Read More