The UNLV Runnin' Rebels have met the end of the line on their 2019-2020 season.
The fourth-seeded Rebels took a loss to No.5 Boise State in the Mountain West Tournament quarterfinals with a final score of 67-61.
The first half was slow going and defensively driven, as UNLV shot under 30 percent from the field and went 4-14 from behind the three.
The All-Mountain West First Team forward, Bryce Hamilton, and Amauri Hardy led the team in scoring with eight points each at the end of the half.
Hardy drilled a late three at the buzzer to send the crowd roaring as both teams headed into the locker room.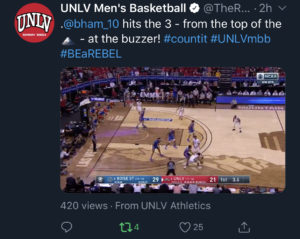 The beginning of the second half seemed to be lack-luster as well, with no points scored and four turnovers within nearly a five-minute stretch.
However, the Runnin' Rebels kept fighting as Jonah Antonio had two short runs and the team closed the game to a two-point gap.
In the end, it was the Broncos who walked away with the win and the Rebels rounded out their season with a 17-15 record.
Boise State will continue on to the semifinals. Their next game will be Friday night at 6 p.m. against  San Diego State.
Photo courtesy of Las Vegas Review-Journal.
Coach Arroyo, Russ Langer & Caleb Herring discuss last week's loss to SDSU and look ahead to UNLV's home opener at Allegiant Stadium against Reno in this week's Marcus Arroyo Show!...

Read More

10/28 Marcus Arroyo Coaches Show

The Marcus Arroyo Coaches Show
It's the Marcus Arroyo Coaches Show with Head Coach of the UNLV Rebels Football Team, Marcus Arroyo!...

Read More
Former UNLV Basketball Great, Mark Wade appeared on The Press Box Morning Show with Ed and Clay and discussed the recent removal of the statue for team mascot, "Hey Reb" and how the decade-long question of using...

Read More