As the coronavirus continues to progress at an accelerated rate across the United States, several sports organizations and leagues have been forced to respond to the pandemic.
CNN reports that there now, at least 124,500 cases of COVID-19 confirmed worldwide with a staggering death toll of over 4,600 people.
In America, multiple officials have declared a state of emergency, while others are restricting or canceling  large gatherings of people — including sporting events.
                              Photo Credit: Boston Globe
Here's what you need to know on event cancelations and impacts on sports:
Thursday, March 12
XFL: Suspended the 2020 regular season.
McDonald's All American Games: Canceled.
NCAA: Cancels all winter and spring championships.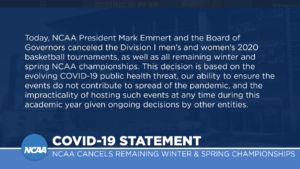 MLB: Cancels all spring training and pushes back the start of the 2020 regular season.
ACC: Suspends all athletics for schools including practices, recruiting and postseason. Cancels Men's Basketball Tournament and names Florida State the tournament winner.
NFL: Cancels league meeting scheduled for the end of March.
NHL: Paused the 2019-2020 hockey season.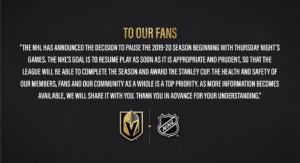 Duke & Kansas: Suspends all athletics until further notice.
Big East: Cancels the Men's Basketball Tournament mid-game (Creighton vs St. John's).
Big 12: Cancels Men's and Women's Basketball Tournaments; will assess on April 15.
PAC-12: Cancels the Las Vegas Men's Basketball Tournament, championship events and conference play.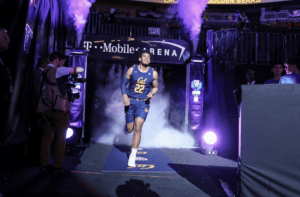 U.S. Soccer: Cancels men's and women's matches until May.
Big Ten, AAC, SEC & ACC: All cancel their Men's Basketball Tournaments.
MLS: Suspends 2020 season for 30 days. 
ATP: Suspends tournament play through April 20.
FIBA: Beginning March 13, all competitions are indefinitely suspended.
NBA G League: Suspends the 2019-2020 season. 
Wednesday, March 11
NBA: Rudy Gobert of the Utah Jazz tests positive for COVID-19. League suspends the 2019-2020 season until further notice.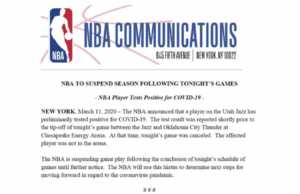 NCAA & PAC-12: Limit event attendance to essential staff, media and some friends and family.
Ivy League: Cancels all spring competitions and practices.
Tuesday, March 10
Ivy League: Canceled men's and women's basketball tournaments. Spectators to be limited at events.
Monday, March 9
NHL, NBA, MLS & MLB: Temporarily restrict locker room access to players and essential staff.
Here are some tweets from Jesse Granger with renderings of the proposed new home of the Henderson Silver Knights. Here are some renderings of the future Henderson Event Center, home of the AHL's Silver Knights. Courtesy of...

Read More
FOR IMMEDIATE RELEASE MAY 26, 2020 NHL ANNOUNCES RETURN TO PLAY PLAN FOR 2019-20 24 Teams Will Restart Play, Compete for Stanley Cup 2 "Hub" Cities Will Play Host to Games Protocol for Players' Return to...

Read More
Here are some links to resources that may help you stay informed and knowledgeable. https://nvhealthresponse.nv.gov/ https://www.cdc.gov/coronavirus/2019-ncov/index.html www.southernnevadahealthdistrict.org/coronavirus. https://sites.google.com/nv.ccsd.net/covid-19updates/home#h.au7wl6jpawt9 Also if you are able to help, threesquare is doing great work here locally in...

Read More