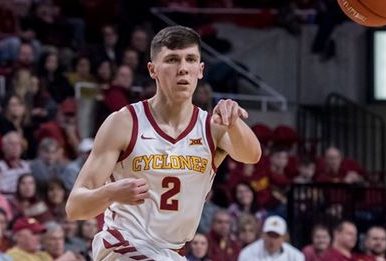 UNLV's roster is already overloaded, but there could be one more incoming player for T.J. Otzelberger in 2020.
When Otzelberger left South Dakota State last offseason, three star recruit Caleb Grill decommitted from the Jackrabbits.
After re-opening his recruitment, Grill went on to choose Iowa State over UNLV. But after one season in the Big 12, Grill has entered the transfer portal.
Check out this clip from Technically Correct on Caleb Grill and UNLV.
Inside Technically Correct

Could Caleb Grill reunite with T.J. Otzelberger at UNLV? pic.twitter.com/QfVQh4GKEe

— Tyler Bischoff (@Bischoff_Tyler) March 19, 2020
You can listen to the whole show by clicking here.
Coach Arroyo, Russ Langer & Caleb Herring discuss last week's loss to SDSU and look ahead to UNLV's home opener at Allegiant Stadium against Reno in this week's Marcus Arroyo Show!...

Read More

10/28 Marcus Arroyo Coaches Show

The Marcus Arroyo Coaches Show
It's the Marcus Arroyo Coaches Show with Head Coach of the UNLV Rebels Football Team, Marcus Arroyo!...

Read More
Former UNLV Basketball Great, Mark Wade appeared on The Press Box Morning Show with Ed and Clay and discussed the recent removal of the statue for team mascot, "Hey Reb" and how the decade-long question of using...

Read More