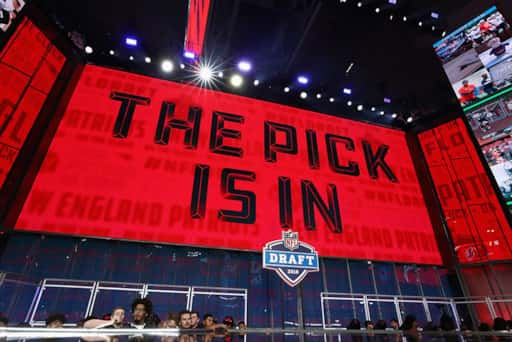 1. Cincinnati Bengals – Joe Burrow (LSU): Had the best college football season ever, very sound in the pocket and accurate. 60 TD's and can make every throw. Ready to step in on Day 1. A perfect fit for the fans of Ohio. Welcome home, Joe.
2. Washington Redskins – Chase Young (OSU): Three down pass rusher who is fast and agile around the edge, he is the best overall player in the Draft. He should be an all-pro and make Washington one of the best defensive fronts in football.
3. Detroit Lions – Jeffrey Okudah (OSU): He is by far the best cornerback in the Draft. Played against great completion, long and fast he can fill a need that was from Darius Slay. Lions should look to trade down and secure another first round pick with several needs on both sides of the ball. Miami and LA Chargers are the ideal trade partner.
4. NY Giants – Isaiah Simmons (CLEM): Everything the Giants need. They can use him at almost every defensive position. The explosive linebacker/safety can cover any tight end in the league and come into the box and defend the run. His comparison is Derwin James but bigger and faster. NYG also needs O line help, but Simmons is too good to pass up.
5. Miami Dolphins – Tua Tagovailoa (BAMA): Best QB in the Draft if healthy. The one question about Tua is he played behind one of the best Olines in college football and did not stay healthy. Whoever drafts him needs to invest in the Oline to keep him upright. If Miami really wants him they should move up with Detroit giving up some of their draft capital.
6. LA Chargers – Justin Herbert (ORE): I still believe LA should consider signing Cam Newton and draft Herbert as the future franchise QB. The Chargers have enough defensive stars to make a run at a wild card if Tyrod Taylor plays well. Herbert struggled against ASU but looked great in the Rose Bowl. He has the size and athleticism wanted, but needs to be developed and groomed by a QB coach and OC.
7. Carolina Panthers – Derrick Brown (AUB) Impact pass rusher, great against the run and played against and dominated some of the best offensive lineman in the SEC. Disappointing Combine, but has the ability to line up in multiple spots on the D-Line. Matt Rhule wants tough players that can stay on the field. Pro Comparison: Ndamukong Suh
8. Arizona Cardinals – Jedrick Wills Jr. (BAMA): Arizona picked up DeAndre Hopkins in a trade with Houston and re-signed their left tackle DJ Humphries to a 3-YR deal. They still need someone to protect Kyler Murray and Wills can start at RT from day 1, then take over as the LT for years to come.
9. Jacksonville Jaguars – Javon Kinlaw (SCAR): Jacksonville selected a defensive lineman in the first round of the past two drafts, but Kinlaw is still worth it. Played great at the Senior Bowl with big upside. Jacksonville could benefit with other teams trading up in front of them, but they get the second best DT in the Draft to pair with Josh Allen. After losing Calais Campbell to Baltimore they need a big physical d-line replacement. They could go WR and take CeeDee Lamb or Jerry Jeudy and send other teams into a panic..
10. Cleveland Browns – Tristan Wirfs (IOWA): Browns have a deep roster, but couldn't protect Baker Mayfield. After upgrading at RT and TE they need another dominant lineman to also set the tone with the running game. This is a make or break season for Mayfield who has to have a bounce back 2020 season and will have more protection to make it easier.
11. New York Jets – Mekhi Becton (LOU): Biggest offensive tackle in the Draft and an athletic freak. The Jets need a beast to protect Darnold in the passing game and create running lanes for Le'Veon Bell in the run game. Jets GM Joe Douglas said that they are going to prioritize protecting Darnold in the Draft. "Our goal is to make sure Sam Darnold is protected and doesn't need to worry about his OLine", but New York fans will be screaming for a big play wide receiver to replace Robbie Anderson who signed with the Carolina Panthers.
12. Las Vegas Raiders – CeeDee Lamb (OU): Raiders need a weapon for Derek Carr and get the best overall WR in the draft. Jerry Jeudy and Henry Ruggs III are also perfect fits for Jon Gruden's complex offense. Pro comp: Deandre Hopkins/Devante Adams. but faster.
13. San Francisco 49ers – Jerry Jeudy (BAMA): Best route runner in the Draft. Did it all at Alabama with a great QB and an all-star supporting cast. Niners will take Lamb if Jeudy is already selected and must replace Emmanuel Sanders who bolted for New Orleans. Pro comp: Amari Cooper.
14. Tampa Bay Bucs – Andrew Thomas (UGA): Bucs need to protect Tom Brady, best pure left tackle in the Draft. I think it's possible that Cleveland selects him at 10. Tampa Bay might need to trade up because after the top 4 tackles are taken there is a significant drop-off. The Bucs have plenty of weapons for Brady but have to keep him upright and healthy.
15. Denver Broncos – Henry Ruggs III (BAMA): Ruggs is a burner and touchdown machine with 4.27 speed who also benefited from playing with Tua, Jeudy and an outstanding offensive line. The perfect explosive player for Denver if the Raiders don't grab him earlier in the AFC West. The next Tyreek Hill but with much better character traits.
16. Atlanta Falcons – K'lavon Chaisson (LSU): Raw pass rusher but has the traits to be elite. Falcons can possibly trade back, but they need to add multiple players to their defense. Had 6.5 sacks on LSU's championship team, but still needs to be developed. GM Thomas Dimitroff needs to be careful. He missed on Vic Beasley (2015) and Takk McKinley (2017) as raw pass rushers in the 1st round. Javon Kinlaw could be their choice if he drops down this far.
17. Dallas Cowboys – CJ Henderson (Florida): Henderson is Byron Jones replacement. He is the second best corner in the Draft, but the Cowboys can go with the best player available because they have two young corners. Henderson is a likely trade up candidate in the top 15 because of the lack of depth at the top of this corner class.
18. Miami Dolphins – Xavier Mckinney (BAMA): Dolphins can afford to take the best player available but might have to package this pick or the 25th with multiple others to trade up for TUA. Mckinney is the top safety in this class who is a tone setter on defense and played against the best competition in the SEC.
19. Las Vegas Raiders – Kristian Fulton (LSU): Fulton is a solid corner with upside, but he is not on the level of Henderson and Okudah. Mike Mayock wants character players who can fit into a more aggressive defense that has been a weakness for several seasons. I also like Kenneth Murray, an athletic linebacker from Oklahoma even though the Raiders upgraded this position group in the off season.
20. Jacksonville Jaguars – Justin Jefferson (LSU): Jefferson ran well at the Combine which helped his draft stock. The Jaguars have a weak receiving core, and must get Gardner Minshew more weapons. Jefferson is a good route runner and can play opposite of DJ Chark.
21. Philadelphia Eagles – Jalen Reagor (TCU): WENTZ NEEDS WEAPONS. He is a fast WR out of TCU who ran an unofficial 4.22. The highest draft stock rise since the Combine. Philly is looking for an explosive receiver who can get open deep downfield who also adds toughness to their playoff roster.
22. Minnesota Vikings – AJ Espensa (IOWA): Vikings lost Everson Griffin and Linval Joseph two of the toughest players in the NFL. Espensa gives them a versatile pass rusher who can help them re-tool for another playoff run. He had a poor Combine, but physical traits will keep him a 1st round talent as he can also play inside at DT.
23. New England Patriots – Zach Baun (Wisconsin): Bill Belichick needs a young linebacker to replace Kyle Van Noy but they can also go with the best player available. He is a three down player with great leadership skills and will fit perfectly into the Patriots classic defensive scheme.
24. New Orleans Saints – Kenneth Murray (OU): He is a fast sideline to sideline LB who can cover. The Saints need a MLB to be that new school Jonathan Villma. Patrick Queen is also a good fit if still available but I have Murray graded higher.
25. Minnestoa Vikings – Tee Higgins (CLEM): He is a big receiver who played in big games. He can replace Stefon Diggs. Minnesota adds a big red zone threat for Cousins as their Super Bowl window is still open. Justin Jefferson is the receiver they want, but he will be gone.
26. Miami Dolphins – Josh Jones (HOU): If you draft a QB, you need to protect him. He graded well against fast edge rushers and can do damage in the run game as he gets even stronger in the coming years. Super athletic and Miami wants more athletes with high character.
27. Seattle Seahawks – Yetur Gross-Matos (PSU): Replacement for Jadeveon Clowney as Seattle needs to add pass rushers or weapons to help Russell Willson. Plays to his size (6'5" 265) but lacks elite pass-rushing moves required at the NFL level. The NFC West is full of skilled players and he instantly gives Pete Carroll another big athlete with raw talent to mold.
28. Baltimore Ravens – Patrick Queen (LSU): Defensive play caller of the National Champions. He is a fast sideline to sideline linebacker with ability to cover tight end and running backs. He could get selected as early as 19, but if he drops the Ravens will swoop in and pounce on a highly skilled defender.
29. Tennesee Titans – Marlon Davidson (Auburn): Played alongside Derrick Brown on Auburn's D-Line and was a highlight reel. A versatile, tough player who Mike Vrabel will plug and play on a team that almost made it to the Super Bowl.
30. Green Bay Packers- Laviska Shenault (COL): Jordan Love could land here as the understudy to Aaron Rodgers but I don't think that will sit well with the future Hall of Fame QB. Big WR who can do it all. He played HB and slot at Colorado and competes hard for every ball thrown near him. He's a swiss army knife, but did not run well at the Combine. Rodgers would love him in the redzone.
31. San Francisco 49ers – AJ Terell (CLEM): 49ers get a DB who can start for the NFC Champs. He got beat in the biggest game of the year and that's why he drops down to become a late first round pick. He was coached by one of the best staffs in college and that goes a long way with San Francisco GM John Lynch.
32. Kansas City Chiefs – D'andre Swift (UGA): Best player left available in the first round for the youngest star studded roster in the NFL. The Chiefs add a running back to their offense, but I can see Andy Reid drafting a cornerback especially if the Raiders and Broncos add big play wide receivers earlier in the first round. The best player available is always the dream for the team that wins the Super Bowl selecting last in the first round.
Related News
Every Friday listen to ESPN Las Vegas, Raider Nation Radio AM 920 and Fox Sports Las Vegas for your chance to win a GAME TIME FAMILY FEAST Thanks to Findlay Volvo Cars Las Vegas with a 6...

Read More
Listen to The Press Box with Graney and Bischoff every Friday from 7:00 AM – 10:00 AM to win your share of $1700. All you have to do is pick 3 winning NFL games straight up. Thanks...

Read More