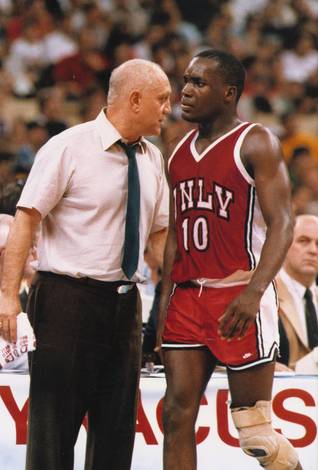 Former UNLV Basketball Great, Mark Wade appeared on The Press Box Morning Show with Ed and Clay and discussed the recent removal of the statue for team mascot, "Hey Reb" and how the decade-long question of using the term "Rebels" negatively gave tribute to the Confederacy of the segregated South in the Civil War.  The conversation began with how looking deeper at UNLV's mascot proved to be an interesting journey of uncovering the past.
"As a player, you're really focused on going to school and playing basketball and you never really  invest in the things around you. They're just ancillary things you don't really deal with. I've gone back to research and delve into the start of 'Hey Reb'  and even going back to the start of Southern Nevada University and it's been an education to me personally.
From 1985-87, Wade personified the ideal guard for UNLV Head Coach Jerry Tarkanian as his 18 assists against Indiana set an NCAA Tournament game record as a Senior; Ultimately going 70-7 in his two years under Tark.  Mark was asked if the term "Rebels" or "Hey Reb" was an issue back when he transferred into the program and how does the name sit with him now?
"For me and the way I played, I looked at as James Dean and "A Rebel Without A Cause".  I've always played with a chip on my shoulder. You look at the Runnin' Rebels when you watched the intensity of which they played was how hard they fought, those were the things I identified as a Rebel and not a part of the Confederacy. In today's climate and where I stand as a man, 'Hey Reb' is definitely something that too closely resembles the Mississippi mascot (Col. Reb).  But the name "Rebels", as a player, holds something dear to my heart.  My license plate says "Rebs87" so in essence that's how I feel about being a Rebel.
March 4, 2021 Austin Gayle (PFF – AD of Content) joins us every Thursday with NFL draft expertise as we are a little under 2 months away. Today, Gayle focused on the centers and guards in the...

Read More
March 3, 2021 Espn Las Vegas legal insider, Justin Watkins joins us every Wednesday on Cofield & Co. with legal insight on cases from news and sports. Watkins talked about Vegas opening back up with both schools...

Read More
AT THE END OF AN INTERVIEW WITH JT THE BRICK, PETER KING HAD SOME OPINIONS ON THE LV RAIDERS…...

Read More

PETER KING ON THE LAS VEGAS RAIDERS 03/03

JT The Brick