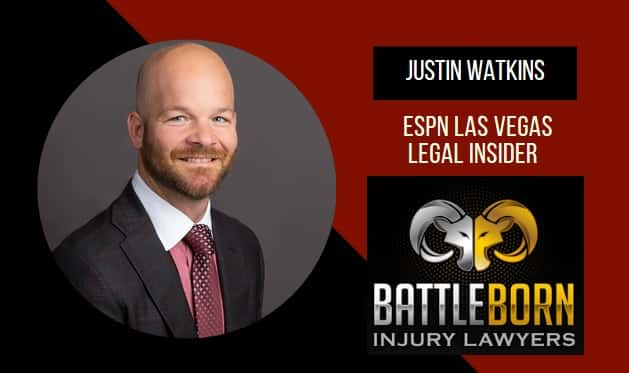 Sept. 16, 2020
Espn Las Vegas legal insider, Justin Watkins joins us every week on Cofield & Co. to provide insight into the latest legal cases from sports and the news.
We started off with Justin's reaction to the Golden Knights' elimination from the playoffs and what kind of moves we can expect to see in the offseason.
Watkins also told us how the law factors into the Big Ten's return and the safety of its student-athletes. Plus, Nebraska's lawsuit and Ed Orgeron's careless comments about covid cases in his program.
Full interview can be heard here (9:11 mark)
Twitter – @BattleBornJW
Photo courtesy of lvsportsnetwork.com
Week 6 in the NFL is upon us and it is anything but normal. Shawne Merriman (former Chargers LB) joined us on Cofield & Co. to talk about what's going on with this crazy NFL season so...

Read More
The Clippers have a new head coach in Ty Lue and rumors of a notable supporting cast with Billups and Drew. Jovan Buha (The Athletic – Clippers) joined us on Cofield & Co. to discuss why Ty...

Read More
Oct. 16, 2020 The Raiders looked great against the Chiefs on Sunday's 40-32 win. Bruce Gradkowski (PFF – Raiders Insider) joins us every Friday to talk Raiders and what he sees as a former QB in the...

Read More