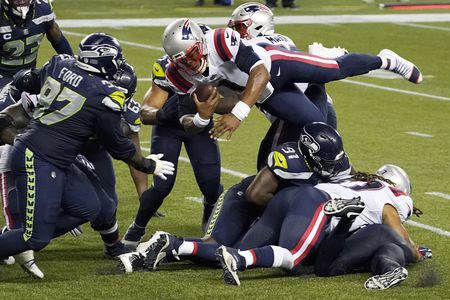 Sept 23, 2020
The Patriots looked good this weekend despite losing 35-30 to the Seahawks on Sunday.
Tara Sullivan (Boston Globe Sports) joined us on Cofield & Co. to preview the upcoming Raiders/Patriots game. She said New England is going to have a hard time dealing with Darren Waller.
We also discussed how other teams let Cam Newton slip through their fingers, causing him to land with Belichick and the Patriots.
Sullivan also gave us some thoughts on the Celtics/Heat series and men vs. women in media.
Full interview can be heard here (24:20 mark)
Twitter – @Globe_Tara
Photo courtesy of masslive.com
Oct. 22, 2020 College football is going strong now, with the Big 10 getting started this weekend. Brad Powers joins us every Thursday on Cofield & Co. with betting insight and picks for the current week's NFL...

Read More
The news came down today that Sunday's Bucs/Raiders game was pushed up to the afternoon slot, to the dismay of many here in Vegas. Shaun King (former Bucs QB) joined us on Cofield & Co. to help...

Read More
Oct. 21, 2020 Espn Las Vegas legal insider Justin Watkins joins us every Wednesday to break down cases from news and sports with his legal insight and expertise. Today, Watkins talked about the consequences that the New...

Read More