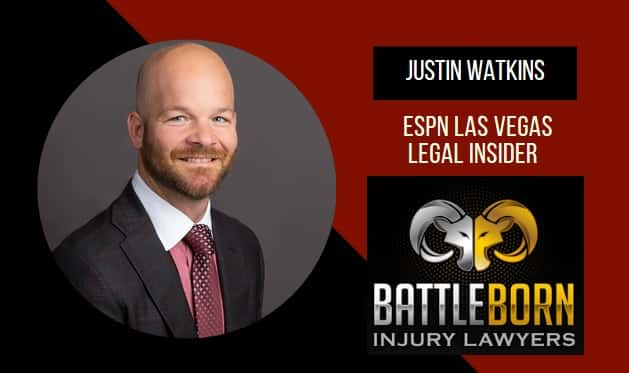 Oct. 7, 2020
So much is happening in sports, particularly with the NFL and a growing number of positive covid tests among players and staff.
Espn Las Vegas legal insider Justin Watkins (BattleBorn Injury Lawyer) joins us every Wednesday with expert insight into legal cases in sports and the news. Today we discussed both the Jets' DE Quinnen Williams and UFC president Dana White beating their respective cases.
He weighed in on a racist Karen from SoCal and whether or not her actions were the result of a mental illness.
Watkins also talked about an assault case in which a maga supporter punched someone in the face.
Full interview can be heard here (14:19 mark)
Twitter – @BattleBornJW
Photo courtesy of lvsportsnetwork.com
Feb. 11, 2021 Exavier Pope (Pope Law Firm/SuitUP) joins us every Thursday to discuss everything from sports to politics to culture across the country. Pope reacted to Bruce Springsteen's DUI and Jeep subsequently pulling their Superbowl LV...

Read More
Feb. 9, 2021 The Chiefs' season ended on a sour note as they fell to the Bucs in Sunday's Big Game. Soren Petro (810 WHB – KC) joined us on Cofield & Co. to tell us what...

Read More
Feb. 8, 2021 Superbowl LV is over and done, with plenty of interesting things to react to. Dan Fouts (former Chargers QB) joined us on Cofield & Co. to recap Superbowl LV and discuss the QB matchup...

Read More