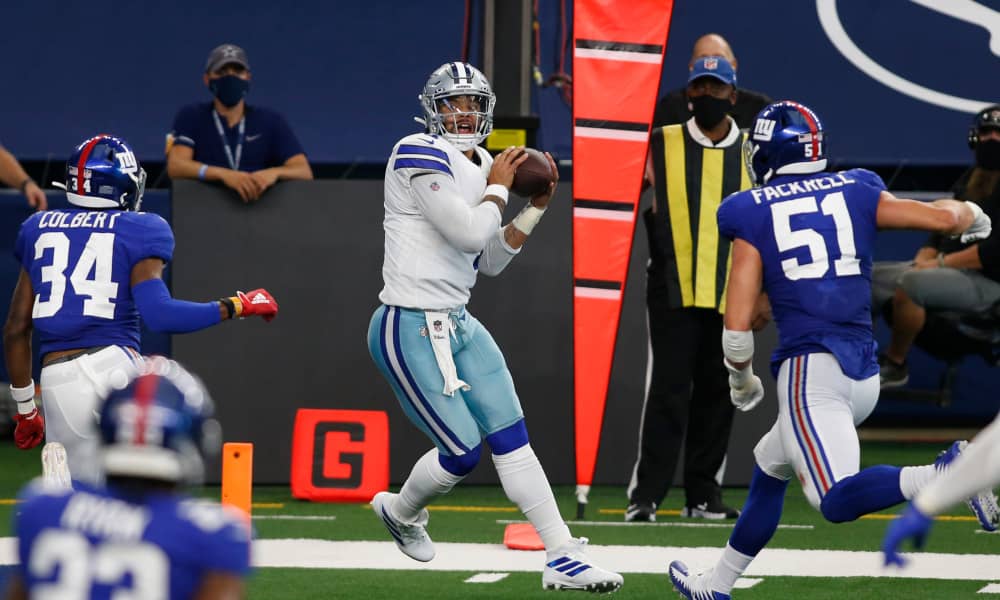 Dak Prescott suffered a brutal injury in Sunday's game against the Giants and without a long-term contract in place, Dak is in quite a predicament.
Derek Kennard (former Cowboys G/C) joined us on Cofield & Co. to discuss the impact of Dak's injury on the team and the great importance of players getting their contracts all sorted out before anything else. Unfortunately, Prescott had not inked a long-term deal with Dallas prior to this injury. Now the question remains, how will Jerry Jones respond?
Kennard says Jones and company needs to pay Dak whatever he needs to ensure that he'll stay with the team and can get healthy. He says Prescott has more than earned a long-term deal and if Dallas wants to win, they'll do what it takes to protect him and make sure he is happy.
Full interview can be heard here (37:55 mark)
Twitter – @dk7tre
Photo courtesy of cowboyswire.usatoday.com
Jan. 15, 2021 Vegas Golden Knights hit the ice for the first time last night at T-Mobile Arena, as they defeated the Ducks, 5-2. Daren Millard (Fox Sports LV) is back on Cofield & Co. every other...

Read More
Jan. 15, 2021 Vegas Golden Knights hit the ice for the first time last night at T-Mobile Arena, as they defeated the Ducks, 5-2. Daren Millard (Fox Sports LV) is back on Cofield & Co. every other...

Read More
Jan. 14, 2021 Samari Rolle (former Ravens/Titans CB) joined us on Cofield & Co. to help preview the upcoming Ravens/Bills playoff game and to give his thoughts on some of the other matchups. Rolle believes the Ravens'...

Read More