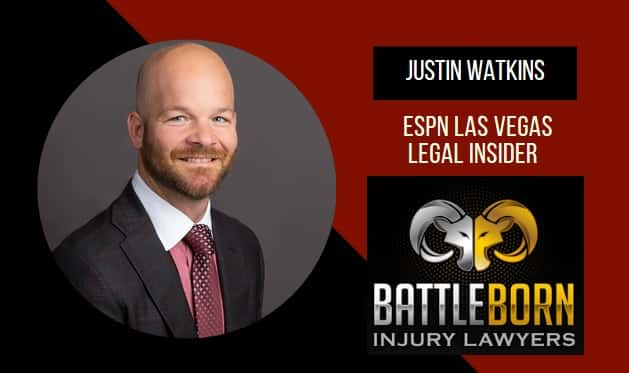 Oct. 14, 2020
Justin Watkins (BattleBorn Injury Lawyers) joins us every Wednesday with legal expertise on cases in the sports world and news.
Today, he told us what happens during Supreme Court hearings and gave us some insight into a local shooting, in which the shooter is claiming self-defense. Watkins explained both sides of the incident and how it would play out in court if taken to trial.
Watkins also breaks down a wrongful death suit involving a man who died at an Eagles game while awaiting medical assistance. Watkins explains why the claim may not hold up for the victim and his family.
Lastly, Watkins talks about viral sensation DoggFace's suit against a rival clothing company that is generating income using an image he owns. Justin explains why he probably doesn't have a valid claim here.
Full interview can be heard here (11:49 mark)
Twitter – @BattleBornJW
Photo courtesy of lvsportsnetwork.com
Feb. 11, 2021 Exavier Pope (Pope Law Firm/SuitUP) joins us every Thursday to discuss everything from sports to politics to culture across the country. Pope reacted to Bruce Springsteen's DUI and Jeep subsequently pulling their Superbowl LV...

Read More
Feb. 9, 2021 The Chiefs' season ended on a sour note as they fell to the Bucs in Sunday's Big Game. Soren Petro (810 WHB – KC) joined us on Cofield & Co. to tell us what...

Read More
Feb. 8, 2021 Superbowl LV is over and done, with plenty of interesting things to react to. Dan Fouts (former Chargers QB) joined us on Cofield & Co. to recap Superbowl LV and discuss the QB matchup...

Read More