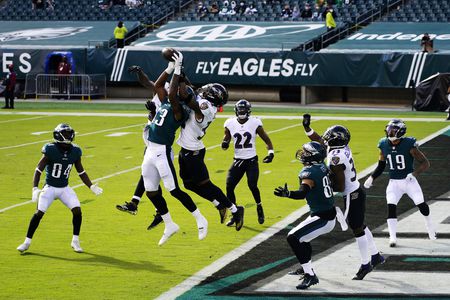 It's Week 6 in the NFL and the Eagles have been struggling since the season began.
Fred Barnett (former Eagles WR) joined us on Cofield & Co. with some memories of playing in the NFL and to talk about the season so far.
He talked about how the NFC East used to be the toughest conference in the league, the Eagles being a huge reason for that. In recent years, that has certainly not been the case for Philly.
Barnett also shared his thoughts on importance of having good ownership and its significance to the success of teams and players.
Full interview can be heard here (33:27 mark)
Photo courtesy of pennlive.com
Vegas Golden Knights shut out Vancouver Canucks 3-0 on Sunday, March 3 at T-Mobile Arena. The Golden Knights are coming off back-to-back shutout wins. Marc-Andre Fleury hasn't allowed a goal in 168:43 of game action, which goes...

Read More
Raiders Head Coach Jon Gruden joined JT today to remember one of the greatest Raiders fans there was, Ricky Ricardo....

Read More

Jon Gruden JT Remember Ricky Ricardo

JT The Brick
#Raiders Reporter @MollySullivanTV Int. on Booker, Carr and The Statement Game For The Defense   Don't Ever Change, Jonathan Abram   @Raiders LB Brandon Morrow Interview...

Read More

Hour 3 Molly Sullivan Int, Abram's Play, Bra...

Pritch & Clay
@Raiders LB Nicholas Morrow Interview – Described The Improved Communication On Defense – The Transition To Playing Every Snap vs Denver – His Own Path To The NFL, From Huntsville To Greenville...

Read More

Raiders LB Nicholas Morrow Interview

Pritch & Clay
ESPN Host & Grammy Winning Member of #RaiderNation @JasonFitz Int. on What To Expect From Mahomes On SNF   Hilarious Reactions on Andy Reid's "Bus Gate"!   More National Media Love For #Raiders...

Read More

Hour 2 Jason Fitz Int, More Bus Gate React, ...

Pritch & Clay
"Bus Gate" Andy Reid Is Getting Very Sensitive About The #Raiders   #RaiderNation Reaction On Getting In Their Heads   There's A New Attitude For The Silver And Black...

Read More

Hour 1 Bus Gate, RaiderNation Reaction, New ...

Pritch & Clay
Nicholas Morrow > Cory Littleton UNLV's Mountain West schedule is out. Kevin Pelton on how well James Harden would work in Brooklyn. The United States will win the 2026 World Cup....

Read More

Hour 3: Nicholas Morrow will save the Raiders...

The Pressbox
Drew Brees has punctured a lung. Why is Marcus Arroyo talking about tearing down UNLV football? Sheng Peng on testicles and karaoke. Allen Robinson's agent needs to take notes from Allan Walsh....

Read More

Hour 2: Is Marcus Arroyo lowering expectation...

The Pressbox
Petty Jon Gruden is the best Jon Gruden. Everyone gets traded for first round picks in the NBA. Bill Connelly breaks down just how bad UNLV is. Will the Runnin' Rebels schedule be any good?...

Read More

Hour 1: Taking a victory lap around Arrowhead...

The Pressbox
On Today's Dan Patrick Show, DP Recaps some of the moves made in the NBA yesterday. How much better are the Suns with CP3? Have the Bucks done enough to convince Giannis to re-up on his contract?...

Read More
Jay Bilas tells Dan that NCAA Basketball do March Madness in one bubble location. Jay says that if you have the number 1 pick in the NBA draft; you use that pick and not trade it. Learn...

Read More

11/17/20 HOUR 1-Jay Bilas

The Dan Patrick Show
Pat Forde tells Dan that only 1 game has been canceled for this upcoming weekend in the SEC. Adrian Wojnarowski tells Dan if the Bucks did enough to keep the Greek Freak interested in Milwaukee. Learn more...

Read More

11/17/20 HOUR 2- Pat Forde and Adrian Wojnaro...

The Dan Patrick Show
Kirk Cousins tells Dan what it is like after you get a win on Monday Night Football. Kirk says that his wife was the only one up when he got home and that he still has not...

Read More

11/17/20 HOUR 3- Kirk Cousins

The Dan Patrick Show
The Le Batard crew discusses Joe Zagacki. Plus, are the Milwaukee Bucks nervous or confident they'll sign Giannis....

Read More
Feb. 11, 2021 Exavier Pope (Pope Law Firm/SuitUP) joins us every Thursday to discuss everything from sports to politics to culture across the country. Pope reacted to Bruce Springsteen's DUI and Jeep subsequently pulling their Superbowl LV...

Read More
Feb. 9, 2021 The Chiefs' season ended on a sour note as they fell to the Bucs in Sunday's Big Game. Soren Petro (810 WHB – KC) joined us on Cofield & Co. to tell us what...

Read More
Feb. 8, 2021 Superbowl LV is over and done, with plenty of interesting things to react to. Dan Fouts (former Chargers QB) joined us on Cofield & Co. to recap Superbowl LV and discuss the QB matchup...

Read More