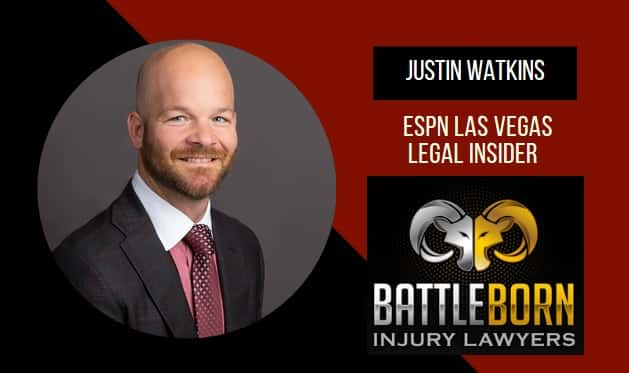 Oct. 21, 2020
Espn Las Vegas legal insider Justin Watkins joins us every Wednesday to break down cases from news and sports with his legal insight and expertise.
Today, Watkins talked about the consequences that the New Yorker may face after the Jeffery Toobin/Zoom incident as well as musicians suing POTUS for using their songs without permission.
He also weighed in on the Raiders' problems with covid cases among some players, causing them to be placed on the covid list.
Finally, Watkins explained why a local's twitter post about the Venetian is liable and they could have a defamation claim if they can prove that the twitter-user is spreading false information.
Full interview can be heard here (13:42 mark)
Twitter – @BattleBornJW
Photo courtesy of lvsportsnetwork.com
The fellas chatted with Sharks reporter Kevin Kurz to preview the game in San Jose between the Golden Knights and Sharks in what will mark Pete DeBoer's return to San Jose {pic courtesy of The...

Read More
Feb. 11, 2021 Exavier Pope (Pope Law Firm/SuitUP) joins us every Thursday to discuss everything from sports to politics to culture across the country. Pope reacted to Bruce Springsteen's DUI and Jeep subsequently pulling their Superbowl LV...

Read More
Feb. 11, 2021 Exavier Pope (Pope Law Firm/SuitUP) joins us every Thursday to discuss everything from sports to politics to culture across the country. Pope reacted to Bruce Springsteen's DUI and Jeep subsequently pulling their Superbowl LV...

Read More