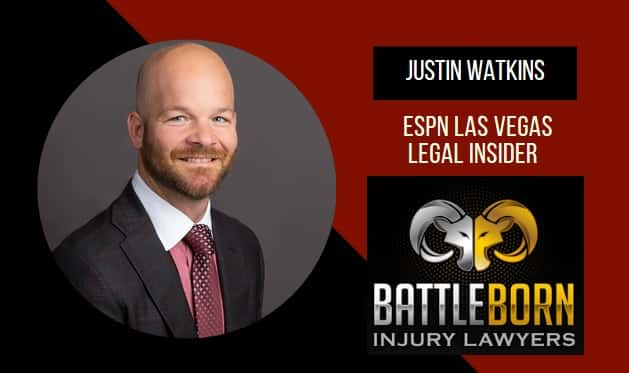 Oct. 28, 2020
The Dodgers won the World Series on Tuesday night, but what most people are talking about is how Justin Turner took the field with no mask to celebrate, hours after being pulled from the game for testing positive for covid.
Espn Las Vegas legal insider Justin Watkins joins us every Wednesday with a look into the legal aspects of incidents in sports and the news.
We discussed Turner's mishap and Watkins weighed in on a legitimate NFL stat change that cost a Daily Fantasy player $1 million. He says the change was the right call and that the player has no claim.
Watkins also talked about some of the legal concerns over having Halloween and Christmas in a pandemic before telling us everything we need to know about local elections and voting ballots.
Full interview can be heard here (9:41 mark)
Twitter – @BattleBornJW
Photo courtesy of lvsportsnetwork.com
Jan. 19, 2021 The Mets fired GM Jared Porter today, in light of sexual harassment allegations from an incident in 2016 with a female reporter. Porter sent over 60 text messages including graphic pictures of his genitals....

Read More
Jan. 18, 2021 The conference championships are coming up this weekend, as the Bills prepare for a Mahomes-less Chiefs in the highly anticipated AFC championship game. Shawne Merriman (former Bills/Chargers LB) joined us on Cofield & Co....

Read More
Jan. 15, 2021 Vegas Golden Knights hit the ice for the first time last night at T-Mobile Arena, as they defeated the Ducks, 5-2. Daren Millard (Fox Sports LV) is back on Cofield & Co. every other...

Read More