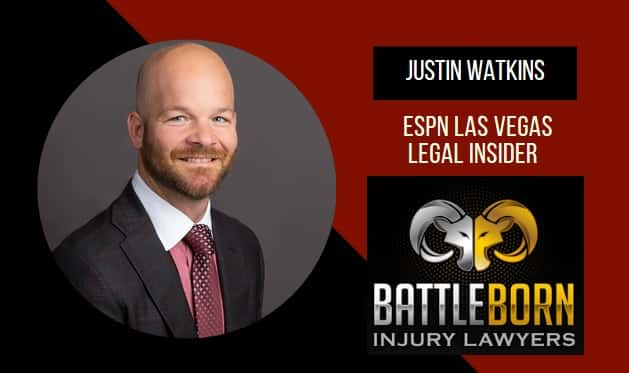 Nov. 4, 2020
The 2020 U.S. Election is all that most people can think about this week and it is still going strong almost 24 hours later.
Espn Las Vegas legal insider Justin Watkins (BattleBorn Injury Lawyers) joins us every Wednesday on Cofield & Co. with insight into legal stories from sports and the news.
With all the uncertainty of this year's election, we asked Justin to give us an idea of what took place and what we can expect to see over the next few days or even weeks.
Watkins weighed in on Nevada's ballot questions and explained their effects on the residents here in town.
We also got Watkins' feedback on Oregon's legalization of possession of drugs such as cocaine and heroin. Distribution has not been legalized, only possession. Watkins said it could be beneficial to the state and that Oregon is a very good place to experiment with this.
Full interview can be heard here (10:14 mark)
Twitter – @BattleBornJW
Photo courtesy of lvsportsnetwork.com
Jan. 18, 2021 The conference championships are coming up this weekend, as the Bills prepare for a Mahomes-less Chiefs in the highly anticipated AFC championship game. Shawne Merriman (former Bills/Chargers LB) joined us on Cofield & Co....

Read More
Jan. 18, 2021 The conference championships are coming up this weekend, as the Bills prepare for a Mahomes-less Chiefs in the highly anticipated AFC championship game. Shawne Merriman (former Bills/Chargers LB) joined us on Cofield & Co....

Read More
Jan. 15, 2021 Vegas Golden Knights hit the ice for the first time last night at T-Mobile Arena, as they defeated the Ducks, 5-2. Daren Millard (Fox Sports LV) is back on Cofield & Co. every other...

Read More