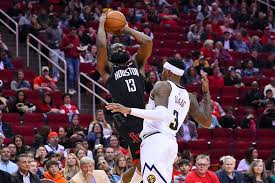 Nov. 4, 2020
Election Day came and went and although it is the only thing on most people's mind, there is also plenty of sports news to talk about.
Noah Coslov (CBS Sports/Stadium – Philly) joined us on Cofield & Co. to talk about the upcoming NBA season, as well as his time as a poll worker in Pennsylvania during this year's election. He said it has been a crazy experience and a lot of work.
We also discussed NBA offseason trades, including rumors that the Sixers want to sign James Harden. Coslov also reacted to the idea of either having a 72-game season or a shortened season.
Full interview can be heard here (23:27 mark)
Twitter – @NoahCoslov
Photo courtesy of koaa.com
Jan. 18, 2021 The conference championships are coming up this weekend, as the Bills prepare for a Mahomes-less Chiefs in the highly anticipated AFC championship game. Shawne Merriman (former Bills/Chargers LB) joined us on Cofield & Co....

Read More
Jan. 15, 2021 Vegas Golden Knights hit the ice for the first time last night at T-Mobile Arena, as they defeated the Ducks, 5-2. Daren Millard (Fox Sports LV) is back on Cofield & Co. every other...

Read More
Jan. 14, 2021 Samari Rolle (former Ravens/Titans CB) joined us on Cofield & Co. to help preview the upcoming Ravens/Bills playoff game and to give his thoughts on some of the other matchups. Rolle believes the Ravens'...

Read More