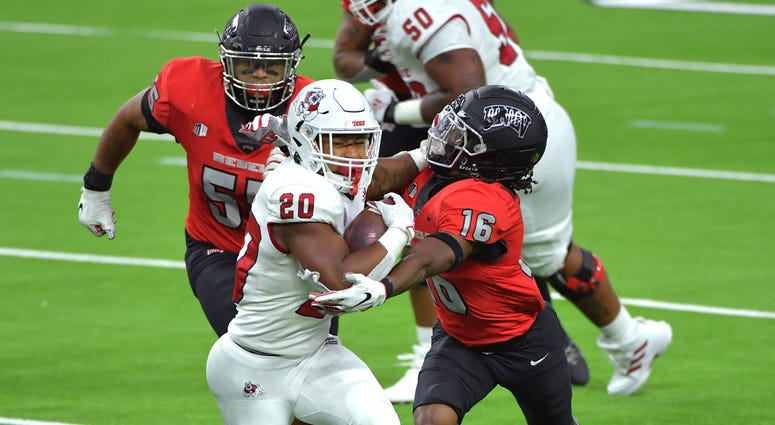 Nov. 9, 2020
College football is still going strong as Week 11 is around the corner with plenty action around the country this weekend.
Alex Faust (Fox Sports LA/NHL pxp) joined us on Cofield & Co. to talk college football and give his perspective on what's going on in the Mountain West as UNLV have yet to win a game this season. Faust also told us about an extremely awesome opportunity he may have on the horizon.
As far as the MWC goes, Faust said he likes what the Rebels have been doing to rebuild the team with Arroyo steering the ship in his first year with the team. However, Faust says they still have a long way to go.
We also talked about doing play by play for games with no fans and what Faust thinks about the upcoming NHL season.
Full interview can be heard here (9:55 mark)
Twitter – @alex_faust
Photo courtesy of radio.com
Jan. 18, 2021 The conference championships are coming up this weekend, as the Bills prepare for a Mahomes-less Chiefs in the highly anticipated AFC championship game. Shawne Merriman (former Bills/Chargers LB) joined us on Cofield & Co....

Read More
Jan. 18, 2021 The conference championships are coming up this weekend, as the Bills prepare for a Mahomes-less Chiefs in the highly anticipated AFC championship game. Shawne Merriman (former Bills/Chargers LB) joined us on Cofield & Co....

Read More
Jan. 15, 2021 Vegas Golden Knights hit the ice for the first time last night at T-Mobile Arena, as they defeated the Ducks, 5-2. Daren Millard (Fox Sports LV) is back on Cofield & Co. every other...

Read More