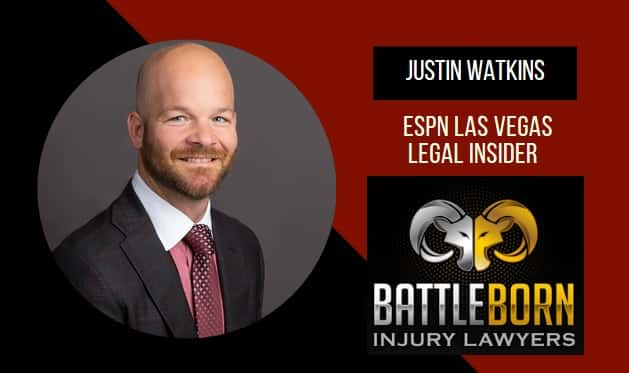 Nov. 11, 2020
We take a break from the election results to get some insight into several other legal mishaps from this week.
Justin Watkins (BattleBorn Injury Lawyer) joins us every Wednesday on Cofield & Co. to break down legal stories from sports and the news. He explained some of the challenges that California is facing, dealing with quarantines, and athletes returning to play.
Watkins also gave his perspective on what is happening in Nevada and across the nation, in regards to restaurants and bars possibly shutting down or going harder on limited capacity. Watkins said their will probably be mask mandates and that people will push back against compliance as we head towards what's been called "Stay at Home 2.0" in Nevada. It will be a big challenge to enforce these mandates.
Watkins also broke down the case of Bucks' G Sterling Brown who was awarded $750K in his case against the Milwaukee PD.
Full interview can be heard here (11:10 mark)
Twitter – @BattleBornJW
Photo courtesy of lvsportsnetwork.com
Jan. 18, 2021 The conference championships are coming up this weekend, as the Bills prepare for a Mahomes-less Chiefs in the highly anticipated AFC championship game. Shawne Merriman (former Bills/Chargers LB) joined us on Cofield & Co....

Read More
Jan. 15, 2021 Vegas Golden Knights hit the ice for the first time last night at T-Mobile Arena, as they defeated the Ducks, 5-2. Daren Millard (Fox Sports LV) is back on Cofield & Co. every other...

Read More
Jan. 14, 2021 Samari Rolle (former Ravens/Titans CB) joined us on Cofield & Co. to help preview the upcoming Ravens/Bills playoff game and to give his thoughts on some of the other matchups. Rolle believes the Ravens'...

Read More