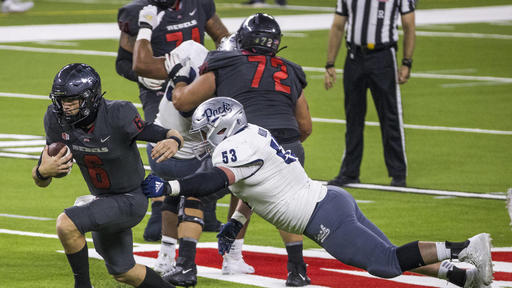 Nov. 13, 2020
UNLV, looking for their first win of the season, will head to California to take on San Jose State on Saturday.
Charles Arbuckle (CFB on Fox) will be calling the game for Fox Sports and joined us on Cofield & Co. to tell us what he expects to see this weekend and discuss the QB matchup.
The former NFL TE has been impressed by Gilliam but said UNLV's biggest challenge is finishing strong and if they can improve that, they will start to have more success.
Buck also praised Arroyo's recruiting and told us what it's like calling games without fans.
Full interview can be heard here (12:54 mark)
Twitter – @CBuck81TV
Photo courtesy of newsbreak.com
Jan. 18, 2021 The conference championships are coming up this weekend, as the Bills prepare for a Mahomes-less Chiefs in the highly anticipated AFC championship game. Shawne Merriman (former Bills/Chargers LB) joined us on Cofield & Co....

Read More
Jan. 18, 2021 The conference championships are coming up this weekend, as the Bills prepare for a Mahomes-less Chiefs in the highly anticipated AFC championship game. Shawne Merriman (former Bills/Chargers LB) joined us on Cofield & Co....

Read More
Jan. 15, 2021 Vegas Golden Knights hit the ice for the first time last night at T-Mobile Arena, as they defeated the Ducks, 5-2. Daren Millard (Fox Sports LV) is back on Cofield & Co. every other...

Read More