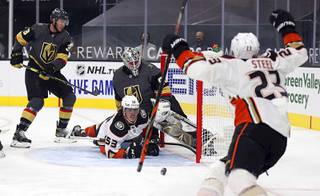 Jan. 15, 2021
Vegas Golden Knights hit the ice for the first time last night at T-Mobile Arena, as they defeated the Ducks, 5-2.
Daren Millard (Fox Sports LV) is back on Cofield & Co. every other Friday, to keep us in the loop with the Golden Knights as their season progresses. Millard told us what he saw in last night's opener with Anaheim, and with no fans in attendance.
He said their big performance in the 3rd period was great and something to be desired in future games as well.
Millard gave his thoughts about Alex Pietrangelo. Millard said we could be in for a real treat if he continues to play well and improve his game this season.
He also talked about some of VGK's weaknesses and what they can do to improve after the first month of games, looking ahead to a possible playoff spot.
Full interview can be heard here (11:13 mark)
Twitter – @darenmillard
Photo courtesy of lasvegassun.com
March 1, 2021 Josh Weinfuss (Espn – Arizona) joined us on Cofield & Co. to discuss the Cardinals deal with JJ Watt. Weinfuss said no one in AZ really expected him to end up in there, and...

Read More
March 1, 2021 Josh Weinfuss (Espn – Arizona) joined us on Cofield & Co. to discuss the Cardinals deal with JJ Watt. Weinfuss said no one in AZ really expected him to end up in there, and...

Read More
The fellas chatted with Sharks reporter Kevin Kurz to preview the game in San Jose between the Golden Knights and Sharks in what will mark Pete DeBoer's return to San Jose {pic courtesy of The...

Read More