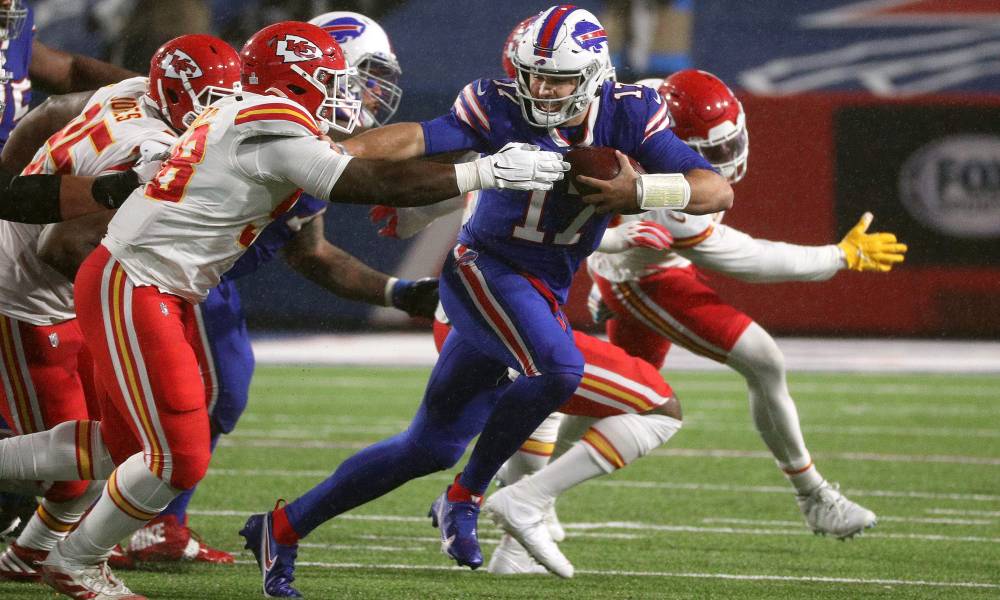 Jan. 18, 2021
The conference championships are coming up this weekend, as the Bills prepare for a Mahomes-less Chiefs in the highly anticipated AFC championship game.
Shawne Merriman (former Bills/Chargers LB) joined us on Cofield & Co. to share his thoughts and expertise on the upcoming game and what he thinks Buffalo can do to get the best of KC.
He said he would prefer to see a healthy Mahomes in the game so that if Buffalo can get the win, there's no disclaimers or excuses, just simply that the better team won.
We also talked about Merriman's current venture, Lights Out Xtreme Fighting, focusing on former athletes transitioning into MMA and combat sports. Check out the website at Lightsoutxf.com for more information.
Full interview can be heard here (8:06 mark)
Twitter – @shawnemerriman
Photo courtesy of touchdownwire.usatoday.com
March 1, 2021 Josh Weinfuss (Espn – Arizona) joined us on Cofield & Co. to discuss the Cardinals deal with JJ Watt. Weinfuss said no one in AZ really expected him to end up in there, and...

Read More
March 1, 2021 Josh Weinfuss (Espn – Arizona) joined us on Cofield & Co. to discuss the Cardinals deal with JJ Watt. Weinfuss said no one in AZ really expected him to end up in there, and...

Read More
The fellas chatted with Sharks reporter Kevin Kurz to preview the game in San Jose between the Golden Knights and Sharks in what will mark Pete DeBoer's return to San Jose {pic courtesy of The...

Read More