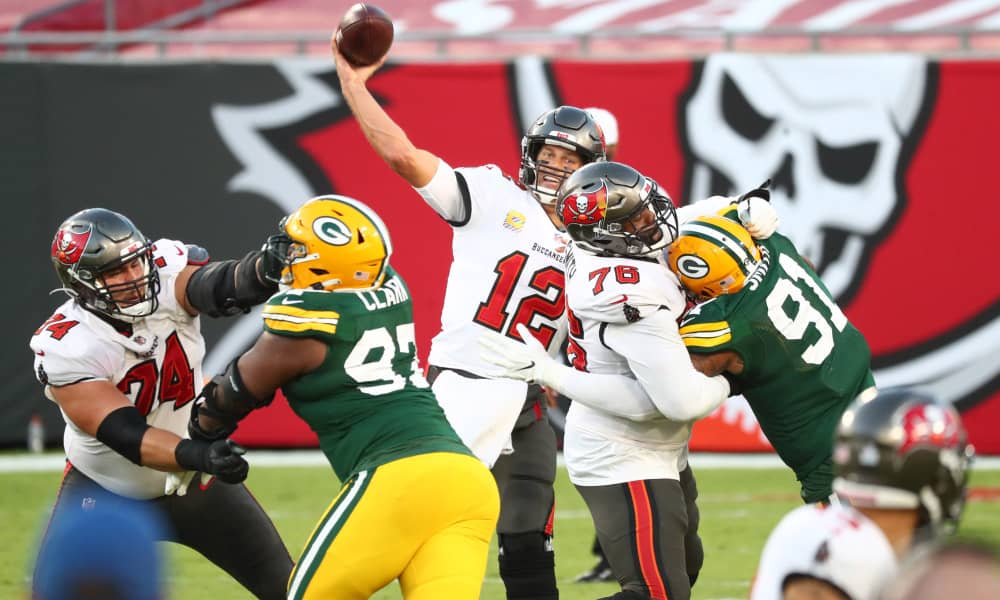 Jan. 22, 2021
Tom Brady and the Bucs will face the Packers this weekend in the NFC title game. Can they make it to the Superbowl?
Shaun King (former Bucs QB) joined us on Cofield & Co. to discuss the playoffs, leading up to the Tampa Bay/Green Bay game. King says Brady vs. Mahomes is the matchup everyone should want to see in the big game.
He talked about what the Packers are bringing to the table, and how the Bucs can get the best of them in hopes of a trip to Superbowl LV.
So, who is going to win the NFC title game? King believes whichever team has the most effective run game and offense, should come out victorious.
King added that Tampa Bay, not Las Vegas, is the best sports city in the country right now. He says the Bucs are gonna win it all this year.
Full interview can be heard here (29:50 mark)
Twitter – @realshaunking
Photo courtesy of packerswire.usatoday.com
March 1, 2021 Josh Weinfuss (Espn – Arizona) joined us on Cofield & Co. to discuss the Cardinals deal with JJ Watt. Weinfuss said no one in AZ really expected him to end up in there, and...

Read More
March 1, 2021 Josh Weinfuss (Espn – Arizona) joined us on Cofield & Co. to discuss the Cardinals deal with JJ Watt. Weinfuss said no one in AZ really expected him to end up in there, and...

Read More
The fellas chatted with Sharks reporter Kevin Kurz to preview the game in San Jose between the Golden Knights and Sharks in what will mark Pete DeBoer's return to San Jose {pic courtesy of The...

Read More