Remember when Marc Andre Fleury reenacted the classic scene from Slap Shot? Hilarious!
———————————————————————————————————————————-
Did you grow up playing baseball on a weird field? Some of these may take the cake!
———————————————————————————————————————————-
30 years ago today the UNLV Runnin' Rebels led by Larry Johnson and Stacey Augmon won the National Championship by dominating Duke 103-73!
Relive that memorable day here with a condensed version! And if you want to watch the complete broadcast of the game, join Tyler Bischoff tonight at 7p as he is live streaming the full game (with awesome 1990 commercials)!
On this day 30 years ago UNLV beat Duke 103-73 in the 1990 National Championship Game.

The 103 points are still the highest ever scored by a team in the title game.

We will watch this title game tonight at 7 pm here on Twitter/Periscope. pic.twitter.com/j4CbyrWLXa

— Tyler Bischoff (@Bischoff_Tyler) April 2, 2020
———————————————————————————————————————————-
Today should have been opening day in MLB and we all hope it will come later this year, until that time here some baseball pics from hosts, producers and staff here at ESPN Las Vegas, Fox Sports Las Vegas & 920 The Game to help you through today.
JT The Brick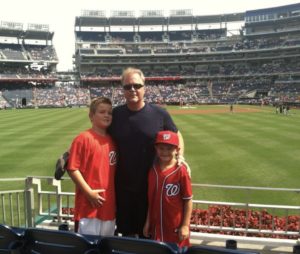 Tyler Bischoff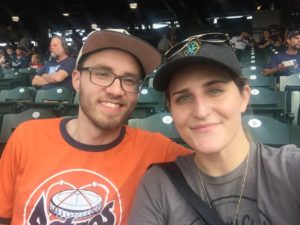 Jered Justus
Chris Chapman (took the photo)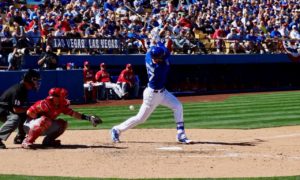 Ryan Wallis (of course he takes a picture of a hockey player)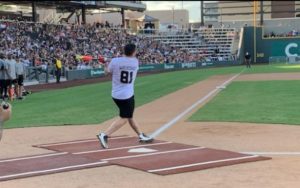 JVT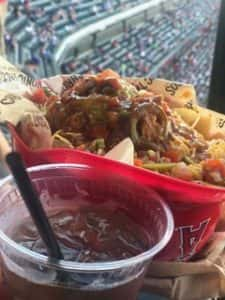 Traffic Dude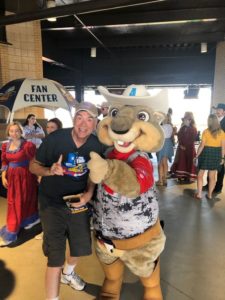 It's National Puppy Day! That's something we can all get behind! Here are some of the pups (and cats) from hosts, producers and staff here at ESPN Las Vegas, Fox Sports Las Vegas & 920 The Game!
Ellie May! (Ed Graney)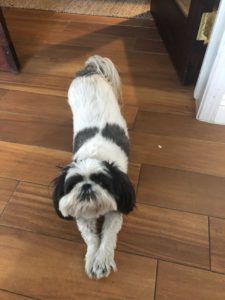 Cindi 3! (Bobby Machado)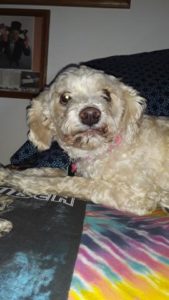 Willow Wallis! (Ryan Wallis)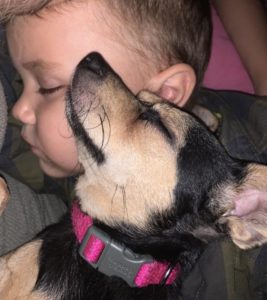 Squash (left) & Ruby! (Tyler Bischoff)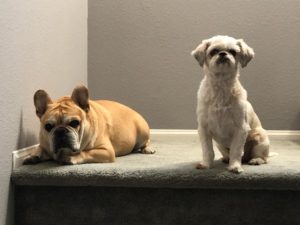 Misty! (Chris Chapman)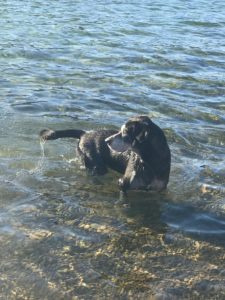 Paulie! (Ryan McKinnell)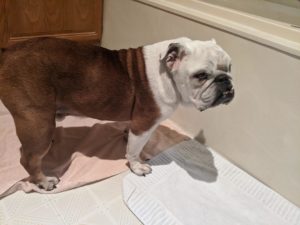 The Bella! (Clay Baker)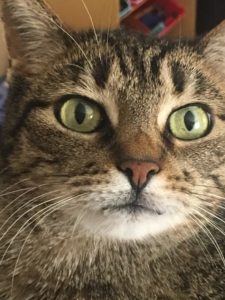 Zuki! (PD Kyle Englehart)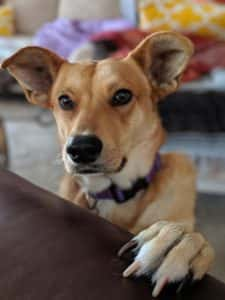 Seamus (left), Azzy (right) & Lucy (solo pic)! (Steve Cofield)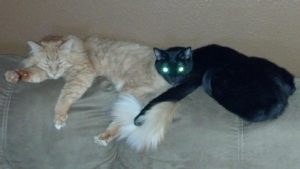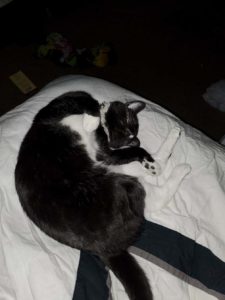 (Cofield's outdoor cats: Fake Seamus (tabby) and Lil B (black))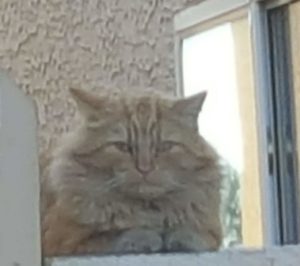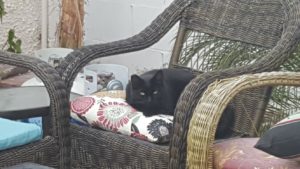 Barron (left) & Lucy! (Adam Hill)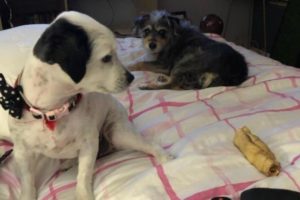 Beau! (Sam Mann)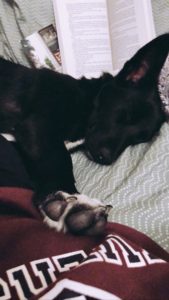 JuJu!  (Traffic Dude)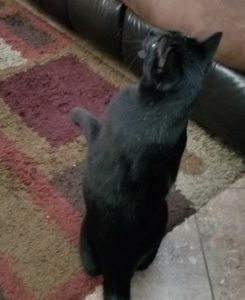 ———————————————————————————————————————————-
Robin Lehner took a slap shot off of the chest in yesterday's shutout win over the Devils. Ouch!
When you take a slap shot to the chest… worth it tho.🙏 god is good. pic.twitter.com/3jrW6IDOyN

— Robin Lehner (@RobinLehner) March 4, 2020
———————————————————————————————————————————-
It was an emotional day at Staples Center as the basketball world gathered to remember Kobe and Gianna Bryant. Here are some of the best moments:
Vanessa Bryant's complete eulogy to her husband Kobe:
"God knew they couldn't be on this earth without each other. He had to bring them home to have them together."

Vanessa Bryant gives her emotional tribute to Kobe and Gigi 💜💛

(via @NBATV) https://t.co/QoScMaNvFJ

— Sports Illustrated (@SInow) February 24, 2020
Shaq with an EPIC Kobe story:
Shaq gives a one-of-a-kind story about Kobe Bryant 😂 pic.twitter.com/D6V88jw70D

— Sports Illustrated (@SInow) February 24, 2020
Michael Jordan brings down the house:
MJ during his tribute speech for Kobe: 'Now I'll have to look at another crying meme' 😂 pic.twitter.com/HOv8XwYeiy

— House of Highlights (@HoHighlights) February 24, 2020
Beyonce opens up the memorial service:
"I'm here because I love Kobe."

Beyonce opens the memorial.

Powerful. pic.twitter.com/XQWhXhplR8

— Bleacher Report (@BleacherReport) February 24, 2020
Lakers GM and long-time friend of Kobe, Rob Pelinka:
Rob Pelinka was texting Kobe the morning of the crash.

Mamba was trying to get a friend's daughter an internship with a baseball agency.

(via @NBATV) https://t.co/1ue8jZlTHi

— Bleacher Report (@BleacherReport) February 24, 2020
UConn Women's basketball coach Geno Auriemma:
https://twitter.com/espn/status/1232052313617027074
———————————————————————————————————————————-
Did Steve Cofield eat the most disgusting meal of all time?
Thanks for the inspiration Coach Mark Richt.

Cofield's Hot Dog Delight!

We breakdown the recipe at 3:30 @cofieldandco. pic.twitter.com/i6d1SSoGno

— COFIELD (@stevecofield) February 19, 2020
Loading
Is this the most disgusting meal ever?
Thank you for voting.
You have already voted on this poll !
Please select an option !
———————————————————————————————————————————-
The Astros are praying that this whole mess of a sign-stealing scandal goes away. But they are in for a rude awakening. Here's last years National League MVP Cody Bellinger going off on the Astro's "apologies" from yesterday:
You can see how visibly pissed Cody Bellinger is when talking about the Astros pic.twitter.com/QUXiNwzbxd

— Blake Harris (@BlakeHarrisTBLA) February 14, 2020
Dodgers ace Clayton Kershaw weighs in:
Clayton Kershaw on the #Astros: "Some of those guys said the right things, gave a good apology. And that's great. I'll move on with that. And then you get the owner up there saying some dumb stuff and it's like, 'What's going on? How can you be that ignorant to the situation?'"

— Jorge Castillo (@jorgecastillo) February 14, 2020
———————————————————————————————————————————-
Houston Astros Owner Jim Crane spoke publicly today for the first time since the team's sign stealing scandal was uncovered. He offered up a heartfelt, passionate apology. Just Kidding. He offered up what may be the worst apology of all time!
Astros owner Jim Crane: "Our opinion is this didn't impact the game."

Wait, what? 🧐 🤯 pic.twitter.com/OCy7FKgUKf

— 95.7 The Game (@957thegame) February 13, 2020
Alex Bregman and Jose Altuve also spoke:
Alex Bregman: "I am really sorry about the choices that were made by me team, by the organization and by me. I've learned from this and I hope to regain the trust of baseball fans." pic.twitter.com/wvv06WPU7M

— Brian McTaggart (@brianmctaggart) February 13, 2020
Jose Altuve apology pic.twitter.com/iq624uF11Q

— Brian McTaggart (@brianmctaggart) February 13, 2020
More from today, including some current MLB players offering their opinions:
"Our opinion is that this didn't impact the game." – Jim Crane

"I didn't say it didn't impact the game." – Jim Crane 55 seconds later pic.twitter.com/MnpPeeTUPL

— CBS Sports (@CBSSports) February 13, 2020
"So then what are you guys apologizing for?"
"We're apologizing because we broke the rules."

Astros owner Jim Crane and @MarlyRiveraESPN went back and forth during the team's news conference. pic.twitter.com/2hdR1sFGcd

— SportsCenter (@SportsCenter) February 13, 2020
VIDEO: Amazing candor from Carlos Correa, calling 'BS' any anonymous report that Carlos Beltrán intimidated young players and that they were not allowed to speak up. pic.twitter.com/BWXzsbQvIa

— Marly Rivera (@MarlyRiveraESPN) February 13, 2020
Astros PR guy firing up the bush league jokes immediately. pic.twitter.com/dYgDvi1gOl

— Jomboy (@Jomboy_) February 13, 2020

———————————————————————————————————————————-
Have you ever seen a crazier dunk than this?
———————————————————————————————————————————-
Lakers star LeBron James has done some incredible things on and off the court during his incredible career. The latest example is truly special… Unlike Michael Scott, James and Kent State University delivered on his promise to provide an entire high school class with free college tuition. Bravo!
———————————————————————————————————————————-
The "Tom Brady to the Raiders" rumors continue to swirl, and they were given another kick start today when Zolak and Bertrand discussed Tom Brady buying a new house near Red Rock Canyon. We cannot confirm this to be true, but take a listen to what they had to say today on 98.5 The Sports Hub in Boston (It begins at the 31:40 mark):
———————————————————————————————————————————-
UNLV's Marcus Arroyo landed a big addition to the quarterback room. Former Top 50 recruit Justin Rogers chose UNLV after leaving TCU.
———————————————————————————————————————————-
Love the San Diego State-UNLV rivalry? Here are some of the great moments from games in the past.
In 2008, the Runnin Rebels got a 72-69 win in San Diego because of Curtis Terry's heroics.
In 2012, Justin Hawkins came up huge with a steal to secure a 65-63 win  (1:25:30 mark).
In 2012, No. 12 UNLV was done in by the clutch Jamaal Franklin (0:30 mark).
In 2013, Dave Rice got an 82-75 road win at San Diego. Anthony Bennett and Mike Moser sat in the final minutes while Anthony Marshall took over the game with 20 points.
UNLV won at home 72-70 that season too. The Rebels pulled off the season sweep.
The Rebels last win came in 2018 behind 42 points and 18 rebounds from Shakur Juiston and Brandon McCoy.
---
The Runnin' Rebels host the undefeated, No. 4 San Diego State Aztecs Sunday at the Thomas and Mack Center. Our own Steve Cofield was down at practice today as UNLV prepares for their biggest test of the season. See what Coach Otzelberger and Guard Amauri Hardy have to say about the upcoming match-up!
VIDEO- With San Diego State on deck, UNLV coach TJ Otzelberger says finishing at the rim will be massive on Sunday.

Nick Blair has done a good job in the paint. Mbacke Diong and Donnie Tillman need to improve. pic.twitter.com/t50ZWv7PdE

— COFIELD (@stevecofield) January 24, 2020
VIDEO – UNLV faces No. 4 San Diego State on Sunday.

The Aztecs defense is the KenPom No. 8 defense in the country. Rebels guard Amauri Hardy talks about ways to attack that D. pic.twitter.com/jebslu2GGe

— COFIELD (@stevecofield) January 24, 2020
---
You thought Tony Romo predicting upcoming plays as a broadcaster was impressive? How about 49ers Head Coach Kyle Shanahan predicting a holding penalty to a ref, who then throws a flag!
When you have a Coach who knows exactly what's going to happen before it even happens .. there is nothing to worry about. #6 is comin' soon !! #GoNiners pic.twitter.com/VEV4EEk1Zy

— J.G. 🇺🇸 🇵🇭 (@JGPinoy916) January 22, 2020
---
The NFL Draft is making it's way to Las Vegas on April 23rd, and it's going to be one of the biggest event's to hit the strip in years!
Check out some of the plans that were announced today, including draft picks arriving to the stage via boat!
https://twitter.com/ClarkCountyNV/status/1219680215779201024
Another view of the Red Carpet stage. The area on the Las #Vegas Strip in front of the @Bellagio will provide a great vantage point for the public wanting to see the @NFLDraft and the players headed to the @NFL. #NFLDraft #NFLDraft2020 pic.twitter.com/1FBztJlOvx

— Clark County Nevada (@ClarkCountyNV) January 21, 2020
This in an overview of the area where the @NFL Draft Experience, Theater and viewing will be located. It's a short distance to a number of Las #Vegas Strip hotels and new @CAESARSFORUM Convention Space. #NFLDraft #NFLDraft2020 @NFLDraft pic.twitter.com/zyWlMl1lyQ

— Clark County Nevada (@ClarkCountyNV) January 21, 2020
---
It's getting closer and closer. The AL is set for completion on July 31. Las Vegas Raiders coach Jon Gruden was blown away during his tour this week
"You gotta see this to believe it."

Coach Gruden was fired up to tour our jewel in the desert. pic.twitter.com/hRqP6p0d6I

— Allegiant Stadium (@AllegiantStadm) January 21, 2020
————————————————————————————————————————————-
When Tom Brady leaves the Patriots, where will he land? According to Adam Hill, after a conversation with UFC president Dana White — drumroll — it's the Las Vegas Raiders.
Just talked to Dana White after the press conference. He absolutely believes Tom Brady to the LV Raiders has legs. White is a longtime Pats fan who has a relationship with Brady and is a suiteholder at Allegiant Stadium. Also says Mark Davis is one of the nicest people in sports

— Adam Hill (@AdamHillLVRJ) January 19, 2020
Listen to Adam explain why White's "scoop" is believable:
—————————————————————————————————————————————
Did you miss Boyz II Men performing the National Anthem before the San Francisco-Green Bay game? Adam Hill is #triggered because they wore 49ers jersey. Traitors! They're from Philadelphia!!
No one performs the National Anthem with the same passion as African Americans. Think Jimi Hendrix, Marvin Gaye, Whitney Houston, and now Boyz II Men. Still, African Americans must fight for our claim to the American story.https://t.co/aXeswqEw9K

— Faye M. Anderson (@andersonatlarge) January 20, 2020
—————————————————————————————————————————————-
Dana White is a man of his word! White expressed outrage this month when Summer Tapasa, a former Best Buy security guard was fired for what many people thought was simply doing her job. The UFC president brought Tapasa out to Las Vegas and had her work around the event for UFC 246. Here she is playing potential peacemaker as Conor McGregor and Donald Cerrone did their ceremonial weigh-in staredown:
THE WAIT IS OVER! 🤯

🇮🇪 @TheNotoriousMMA vs 🤠 @CowboyCerrone

Get the E+ PPV ➡️ https://t.co/fhgKzGig1O pic.twitter.com/bEEBmjPoxs

— UFC (@ufc) January 17, 2020
Tapasa got plenty of attention in football circles where the prevailing though was that she could offensive lineman in the league!!
---
That's 7-of-8 for UNLV basketball after a 99-78 victory over New Mexico on Saturday afternoon. The Runnin Rebels (11-9, 6-1 MWC) threw down some spectacular dunks and ran for much of the game scoring 58 points in the paint. Sophomore Bryce Hamilton had a career-high 35. UNLV has scored 197 points in the last two games. Coach T.J. Otzelberger talked about his team's transition game and if they can keep it up moving forward.
Here's sophomore Marvin Coleman, who posted the program's first triple-double since 1999, hopping with the CBS Sports Network crew. The point guard had 11 points, 12 rebounds and 11 assists.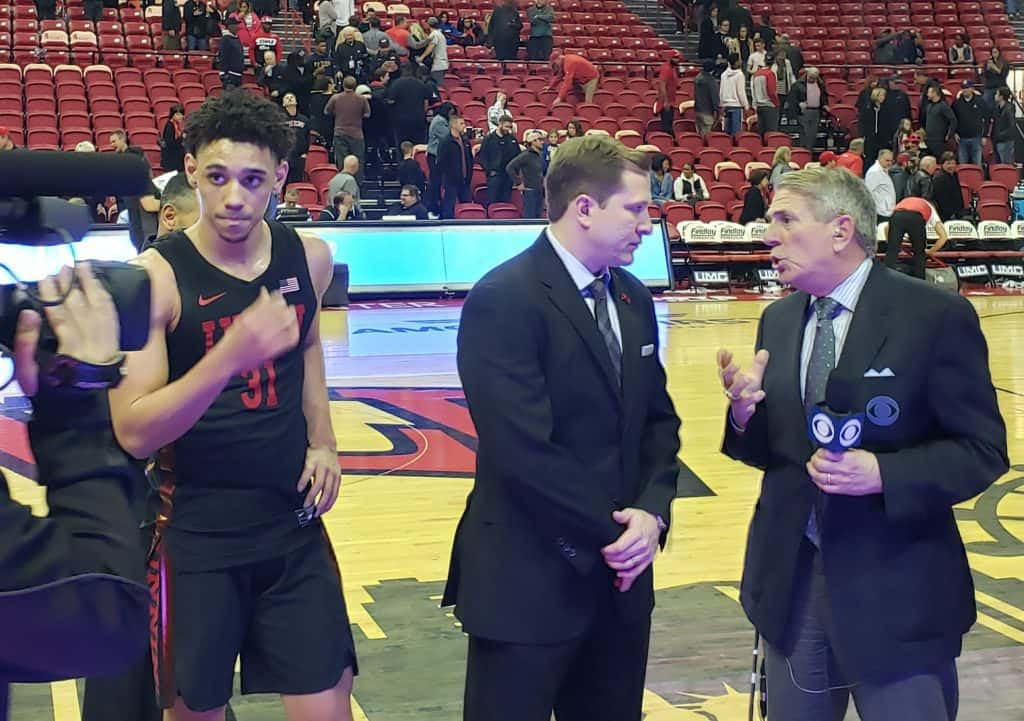 —————————————————————————————————————————————————–
Just when you thought the MLB cheating scandal couldn't get any more interesting, here comes former Cy Young award winner Jack McDowell from the top rope! In an interview with WFNZ in Charlotte, McDowell alleges former manager Tony La Russa orchestrated a sign-stealing operation of his own. Here's what McDowell had to say: